Learning SEO is fairly easy once you understand the basics and we will teach you this here. Now sit back and enjoy learning how to use SEO keywords for wedding venues!
Starting out, we want to break down how SEO keywords are actually used and no they are not just one word. While the keywords can be a keyword, it's nearly impossible to rank on Google for a single keyword.
This is why a majority of "keywords" are actually smaller phrases that are more likely to line up with what your target audience is searching for themselves.
The goal here is to teach you how to find a keyword and apply it to your content that will end up on your wedding venues landing page.
Now let's get you set up with SEO keywords for wedding venues!
When To Use Google Keyword Planner?
Starting out with basic SEO, the first thing you want to do is create a Google Ads account. You won't be posting ads just yet, we will touch on that later.
In Google Ads, you will find a tab called Google Keyword Planner where you will select a location of where your wedding venue(s) is located.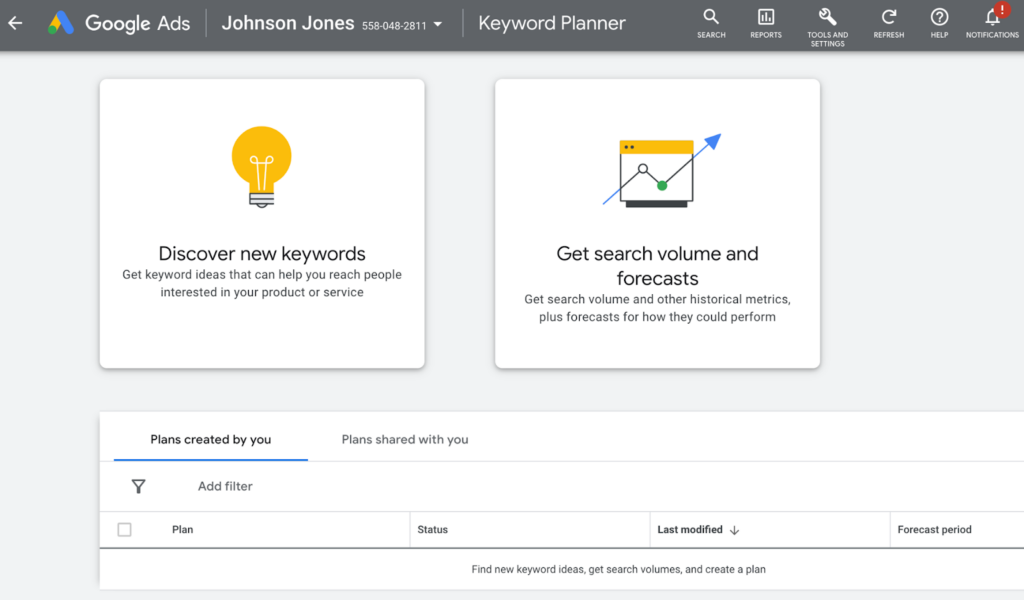 Once you select your location, it's time to search for some keyword phrases that you think your audience will search for.
When you come up with your list of phrases, you can hit search and you will discover the volume of your target market searching for those keywords. You will also see what works and what keywords do not work.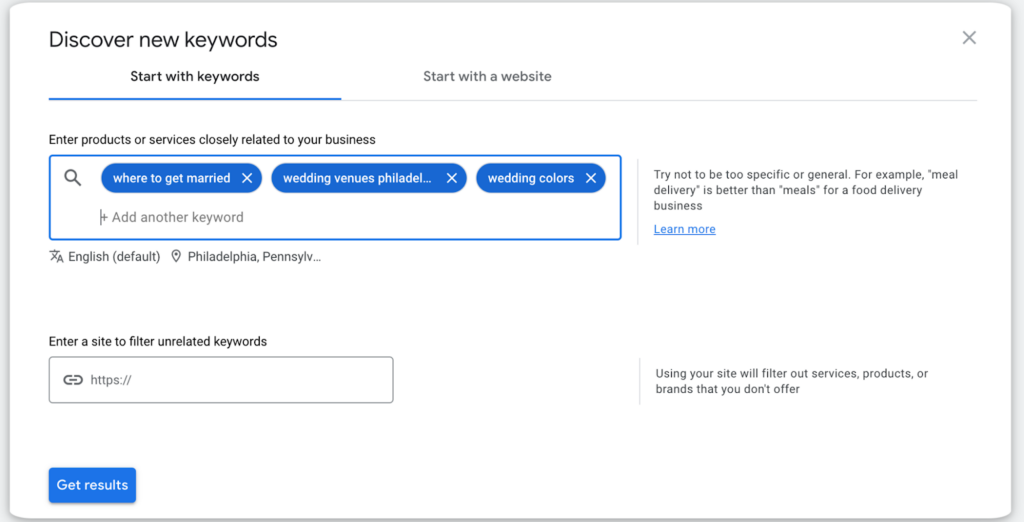 If a keyword has no data, then no one is searching for it in your area and you should pivot to another keyword. If you find one that is going to work you can skip to the bottom of this article to learn how to implement it on your website's landing page that you desire.
And just an FYI, this is free to use and should be a go to if you're on a budget!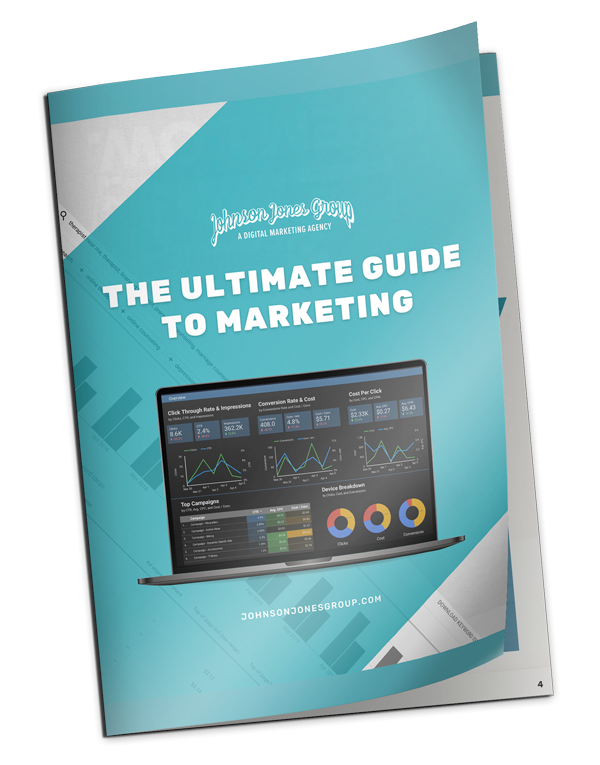 Proven strategies to increase your leads in 2022
How And When To Use SEMRush?
If you are willing to spend some money for greater insights on your wedding venues website than SEMRush is for you. This is what we use for not only keyword research, but more SEO tasks like Backlinking, Site Audits, and Organic Search.
While you will be using SEMRush to find SEO keywords for wedding venue, you can also use their other features described above. On SEMRush, you will discover more filters to help your keyword research with their Keyword Magic Tool.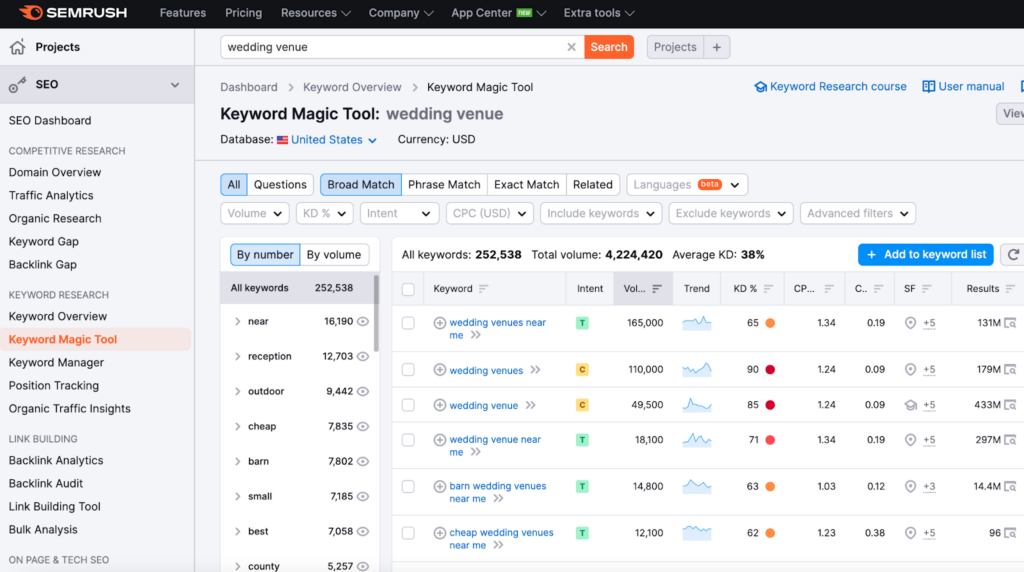 The cool thing about SEMRush is how in-depth the data is on each keyword. For example when we click on any keyword above like "wedding venues", you will see the data shown below.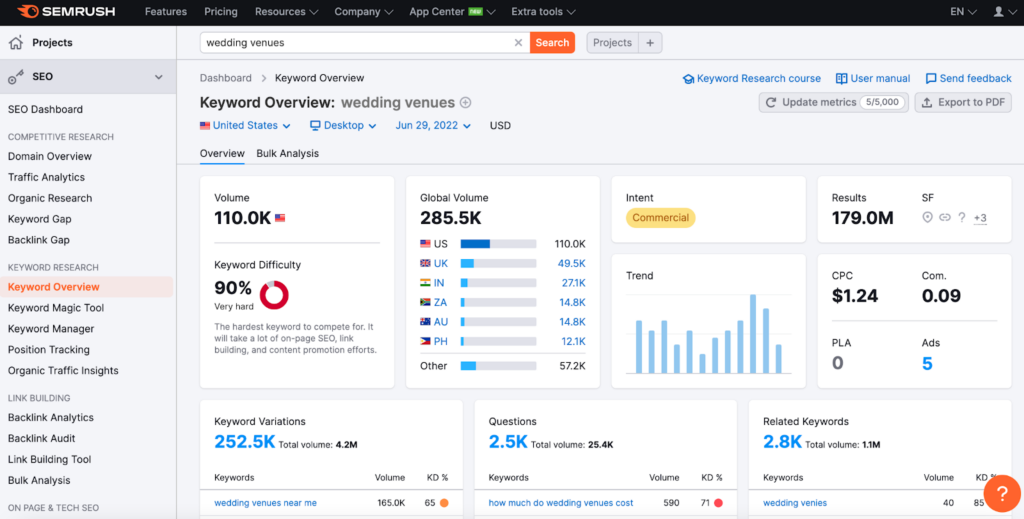 From this data we can see how many searches this keyword receives from the volume and the keyword difficulty of which is telling us it will be difficult to rank for.
When a keyword is too hard to rank for, it means that too many websites are already ranking for the keyword and it will be difficult to crack into the rankings.
You will want to look for mid level volumes in your area (volume in the range of 100-500) with a low keyword difficulty (0-50). When you find one that you like in this range, keep it and add it to your keyword manager list by hitting the "+" button on SEMRush.

Now that you have found your keyword that you like, you can skip to the bottom to learn how to implement it, but if you're spending $$$ on your SEMRush account, you're going to want to read on to get the most out of your SEO keywords for wedding venues.
What Are SERPS?
A SERP is what you see when you search anything on Google. The Search Engine Results Page is what you will have to optimize your wedding venue result for using the keyword you selected.
Starting out with the title of your search, when you are going for a landing page, you want it to look professional. Use exactly what that page is about and sum it up as the title. Just know listing the location works great and the name of your wedding venue like below.
What is a Meta Title?
If you're writing a blog to grow your wedding venue business, say for example the keyword wedding colors for fall, you want to come up with a creative title using the keyword in it. Below you will see how this venue perfectly does this.

The next key to a perfect SERP is the URL containing the keyword that you are trying to rank for. Another important thing to do is writing a clever Meta Description under your title that sums up what the page or blog is about.
What is a Meta Description?
This is the small description that you write under your Meta Title. You should include your SEO Keywords for wedding venues that you choose included in the description that you create. Make sure you come up with a description that will captivate the audience that your are looking to attract.
Perfecting your SERPs and consistently optimizing then search engines will take notice and start boosting your authority on Google and therefore improving your rankings.
How To Use Google Ads For Your Wedding Venues?
We suggest before attempting to run Google Ads to do more extensive research that you can find here.
Google Ads can become expensive if you don't know what you are doing or the keywords are not working for your target audience.
Because you already have some of the skills mastered for Google Ads with the Google Keyword Planner, you can begin to brainstorm what your Ads will be for.
You should have a list of SEO keywords for wedding venues picked out that you can pick from. Then once you create your Ad listing, you will see the campaigns data and metrics that you are going to want to keep an eye on.

Google Ads will allow you to choose what campaigns you want to run and you can A/B test multiple campaigns to see which performs better. Like we said earlier this section does not tell you everything you need for Google Ads, so you can find out even more here.
What Our Agency Does And How to Implement SEO Keywords For Wedding Venues?
At Johnson Jones Group, we do everything that you learned here today. We do take it a step further with some advanced SEO work.
While there are countless SEO tips and tricks to help your wedding venue, these are the best ones that have worked for our clients.
If you are still buying a venue and haven't thought of a name yet, pick a name that has a high volume of keywords and applies to your venue.
Selecting local keywords that apply to not only a wedding venue, but also the area you are targeting. Ex: wedding venue in Philadelphia, PA.
Sprinkle this keyword and similar phrases relating to the keyword throughout your landing pages on your website.
Look at competitors in your market and see what keywords they are targeting.
If you have a blog, don't forget to include the keyword throughout that content as well.
Obtain backlinks from credible and high authority score websites. Ex: WeddingWire
Audit your backlinks! Spam websites exist with high toxicity scores that will drag your website down if you end up on them. Google will make note of this and your visibility will be negatively affected.
If you work with an agency, make sure they are keeping up with your website every month.
SEO can become very time consuming for you to do on your own. With juggling managing your venue and actually putting weddings on, it might be best to let an agency handle it for you to get the best results.
If you have any further questions on SEO Keywords for wedding venues, let us know by contacting us here.