Do you want to know how to create a wedding venue marketing plan that gets your business more customers?
Using the strategies below, here are some of the results we have generated for our venue marketing clients: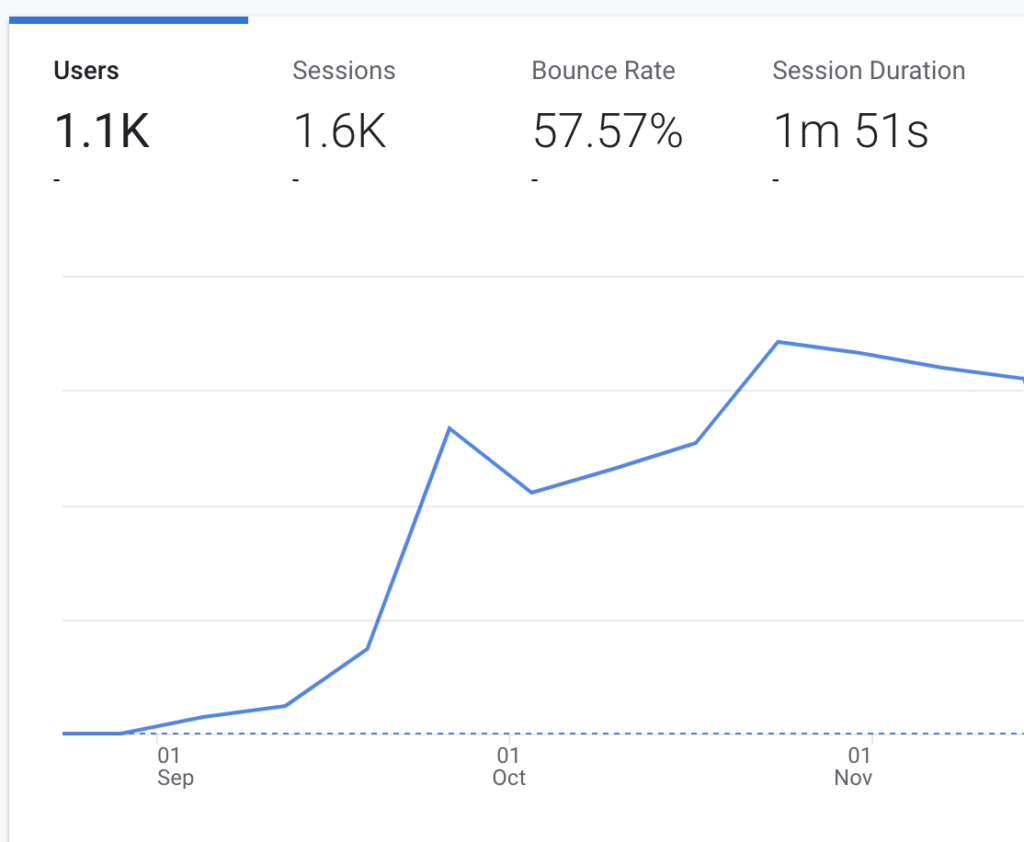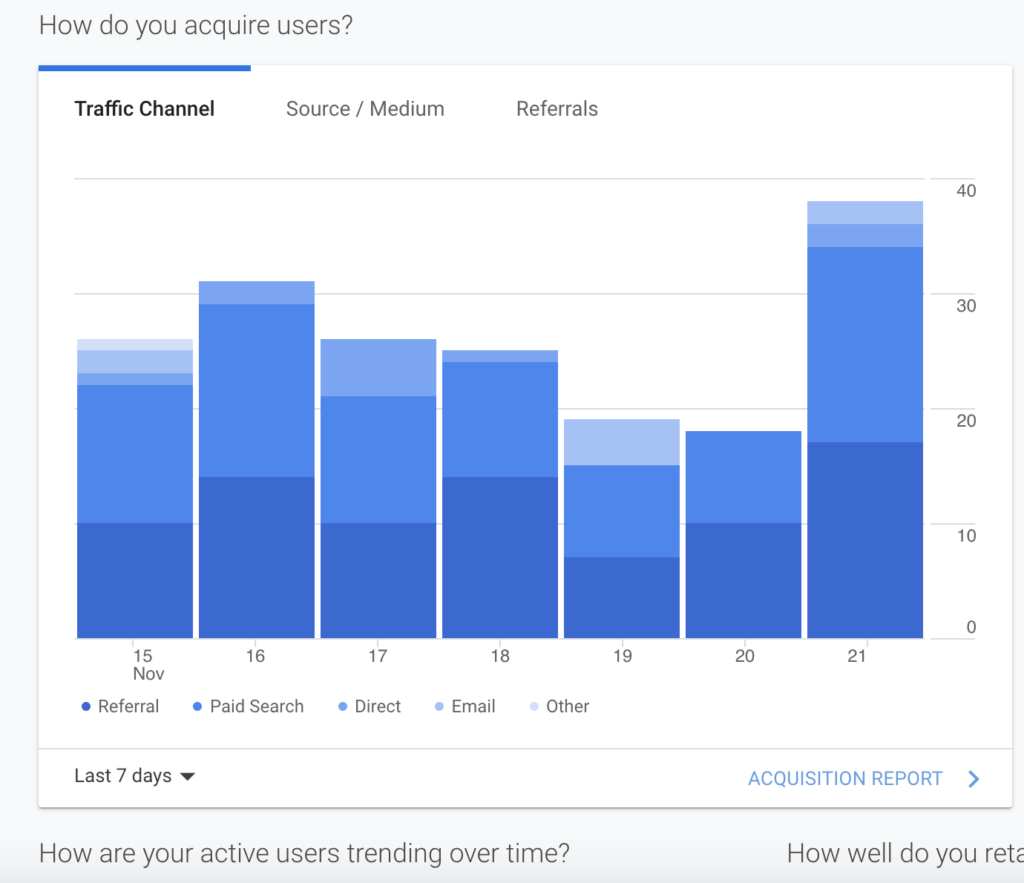 Let's jump right in and get you a top-notch wedding venue marketing plan.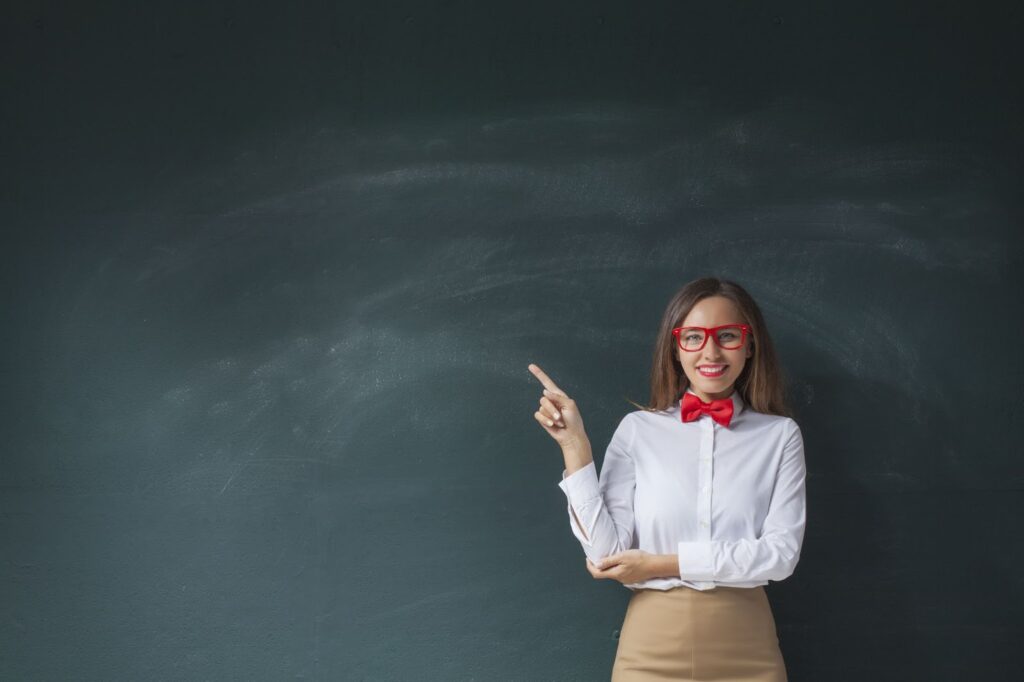 In this article we will be discussing:
-Strategy 1: Target Market for Wedding Venues
-Strategy 2: Wedding Venue Market Research
-Strategy 3: Have a Goal-Oriented Website
-Strategy 4: Google Ads
-Strategy 5: Content Creation
-Strategy 6: Directories
-Strategy 7: Social Media Marketing
Strategy 1: Target Market for Wedding Venues
One of the first mistakes we see wedding venues make with their marketing strategy is failing to clarify who their target market is.
There is so much competition in the wedding venue industry, that it is very difficult to be a one-size-fits-all venue.
This means if you're trying to market weddings to everyone looking for a wedding venue, there is a low chance anyone will be interested.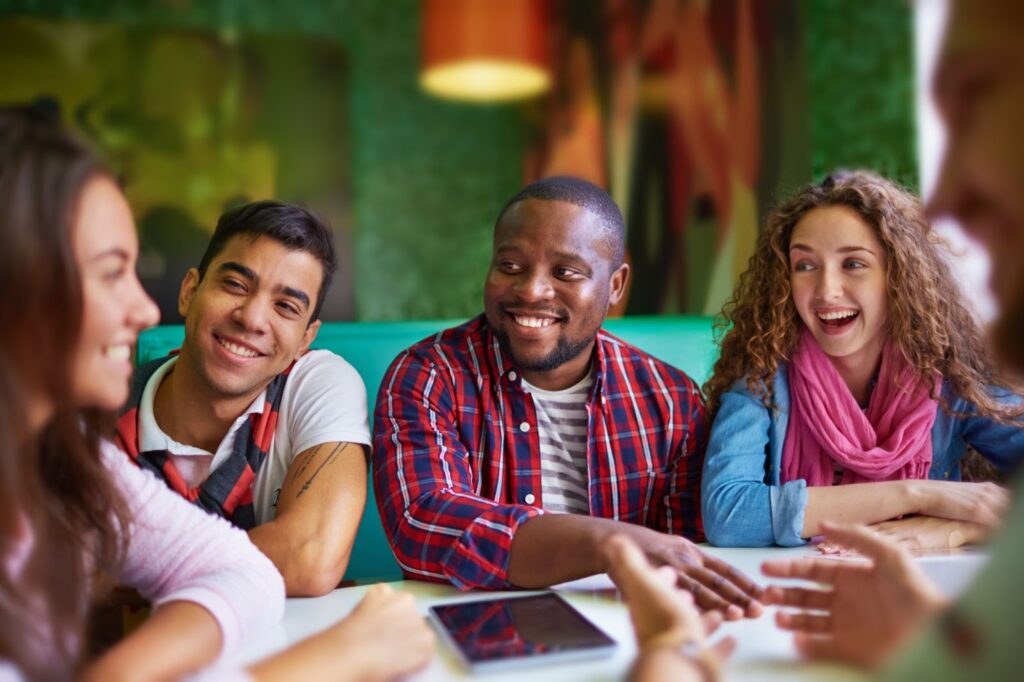 Wedding venues now serve specific markets such as:
All-inclusive venues
Micro wedding venues
Eloping wedding venues
Destination venues
Budget venues
Up-Scale wedding venues
Etc.
Find Your Niche!
Finding the right specified service to provide is often enough to beat out any generalized competitors. The more specific you can be with your service, the greater the chances of landing that sale.
"If you don't clarify which specific needs you meet, people with those needs will find someone who will"
To do this, you need to identify your target audience profile.
A target audience profile is a single imaginative representation of the person who is most likely to purchase your services.
Your Target audience profile should include:
Name
Income level
Occupation
Location of residence
Age
Felt Need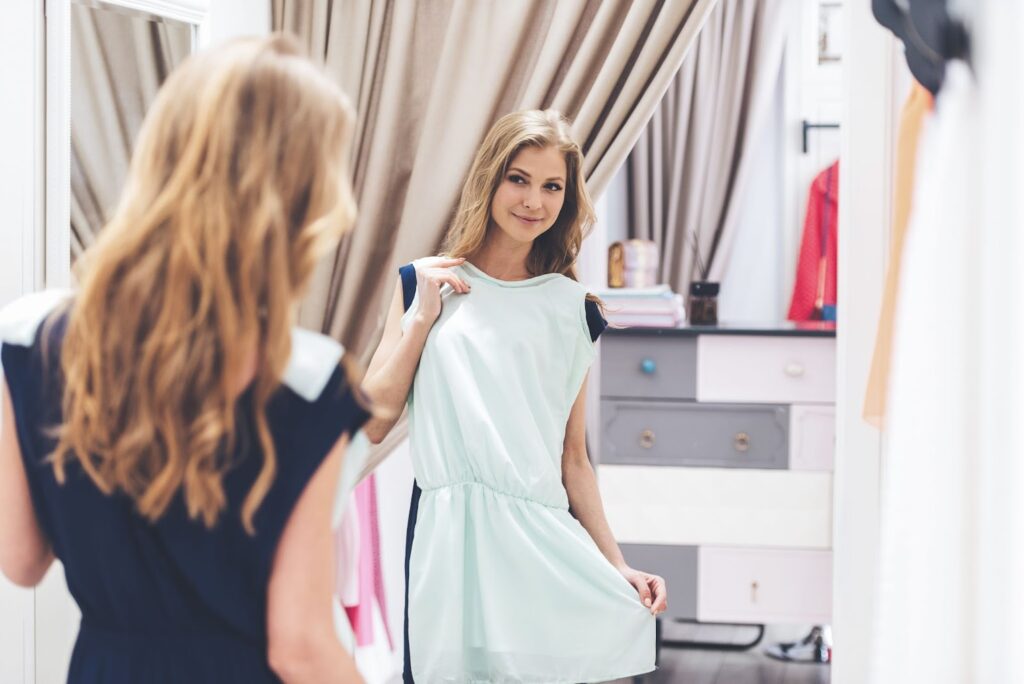 Identifying your specific target audience will help you to write marketing content that speaks directly to the people who are most likely to work with you.
Every target audience has a specific and deeply felt need.
The need for a budget venue audience will be radically different from someone looking for an all-inclusive venue.
When you speak directly to the needs of your specific audience you will capture the hearts of the brides visiting your website.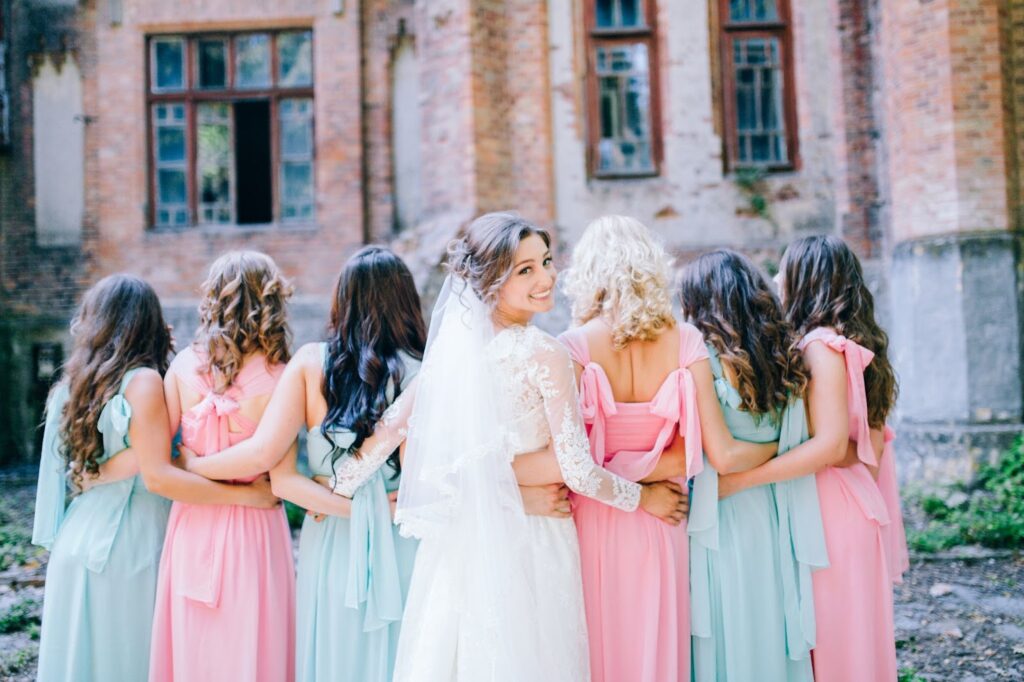 To identify your target audience we recommend reviewing the client information you have gathered over the last 12 months (or as much as you have).
Look for common themes you can add to your target audience profile, like where your average customer lives.
(We work with a number of venues that have found that 90% of their clientele come from one particular area. Reducing marketing efforts in lower-performing geographic regions can dramatically reduce your Cost Per Lead and Cost Per Acquisition).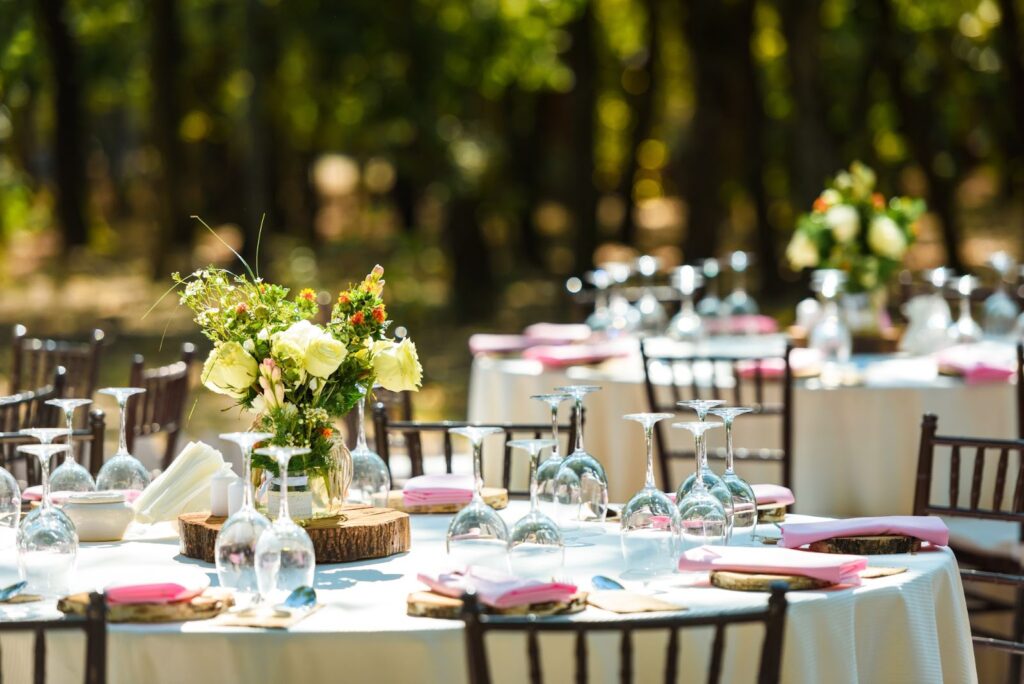 Strategy 2: Wedding Venue Market Research
Effective market research begins by putting yourself in the shoes of your target audience.
How do they expect to find you
What keywords do they search for
And where (what platforms) do they search on
To better understand your current market, take some time to search for other wedding venues in your area.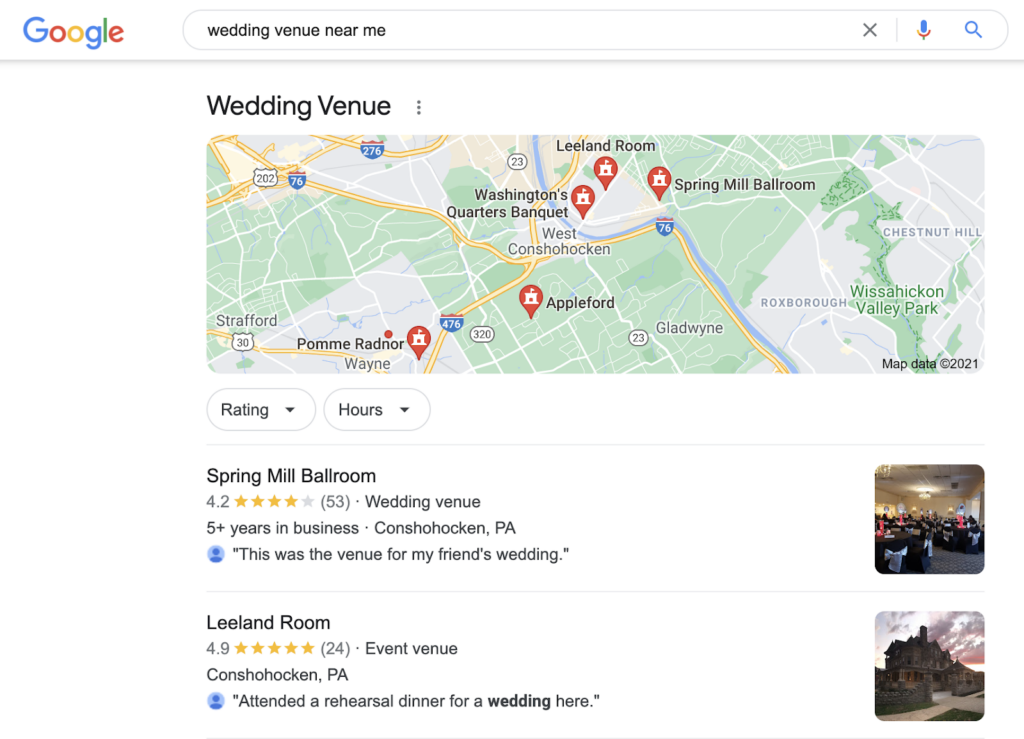 Look specifically for what audiences they are targeting and what needs they are trying to meet. Keep an eye out for any holes in the market where other venues have not provided a service to meet the needs of your specific audience.
For Example: if there are no wedding venues offering "microweddings" to accommodate COVID-19 regulations, you may be able to meet a deeply felt need of the people in your area.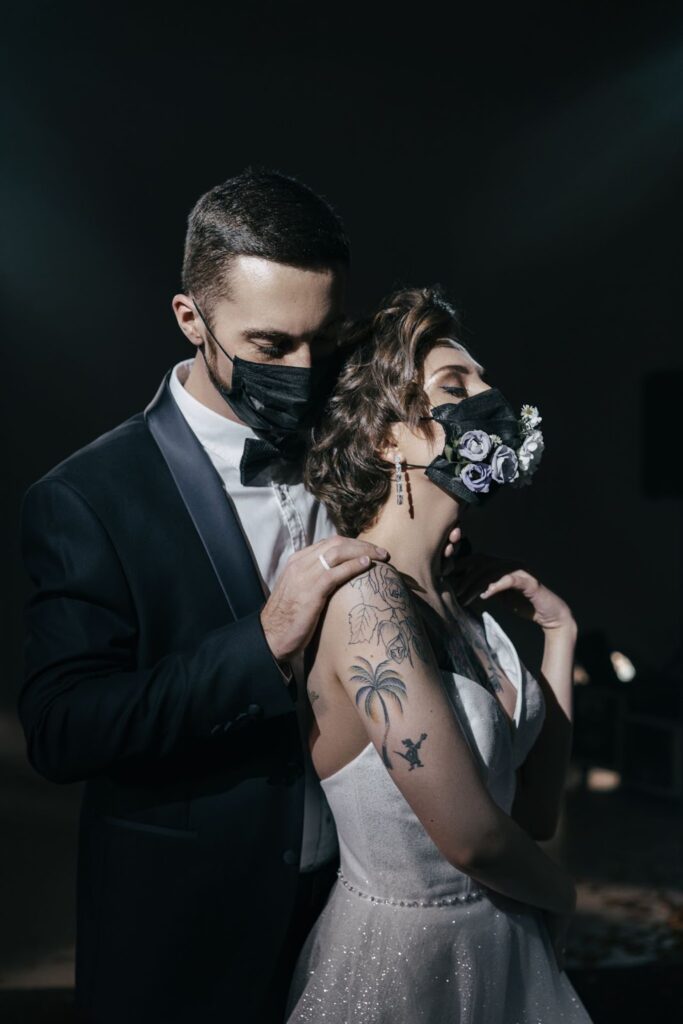 As you analyze your competition, do the following:
List the services that they offer (look for trends)
Look to see where they're advertising (you can do this in SEM Rush, or by searching Google and social media)
Look at what directories they are listed on.
Look at what keywords they're ranking for on Google (SEM Rush)
Examine their websites for what is and is not working (the more bookings a venue gets the more effective their site will most likely be).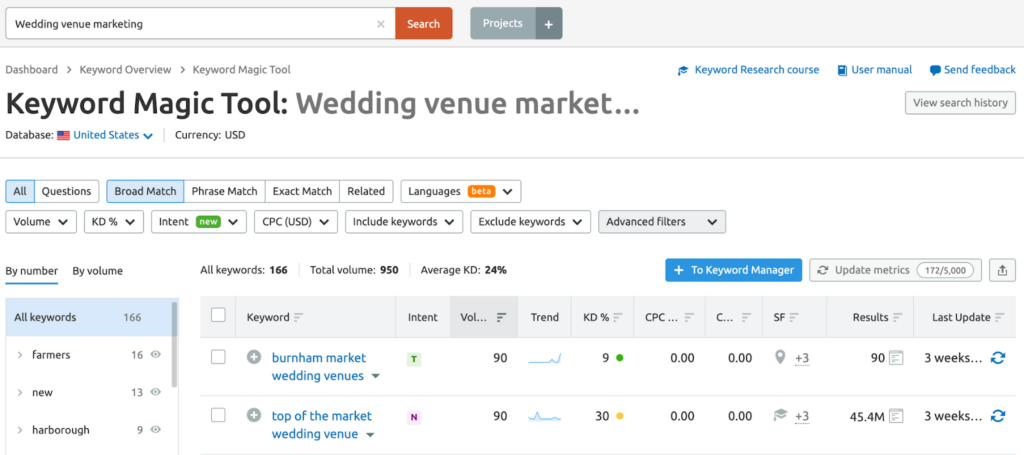 BONUS TIP: Identifying indirect competition in your location can help you and them book extra weddings. If you focus on budget weddings and they focus on high-end, all-inclusive weddings, setting up a referral partnership with each other may be mutually beneficial.
Keyword Research
Effective keyword research begins by identifying what people are already searching for.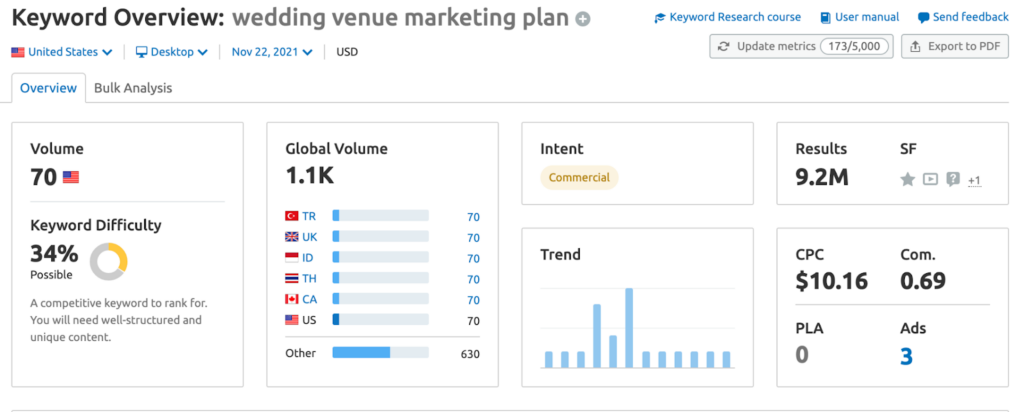 A common mistake wedding venues often make occurs when a venue guesses the keywords they believe their audience will be searching for.
Example: Using the keyword "best weddings near me" might sound good but if only 10 people are searching for this term each month, nobody will find your wedding venue.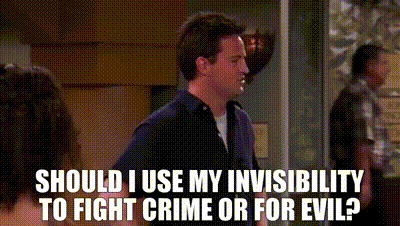 You want to begin by finding keywords with enough monthly search volume and then create your advertising content around those keywords.
You can use Google's Free Keyword Tool or SEM Rush (paid service) to do your keyword research.
Spend at least 4 to 5 hours finding the best keywords for your specific area. Be sure to consider search intent!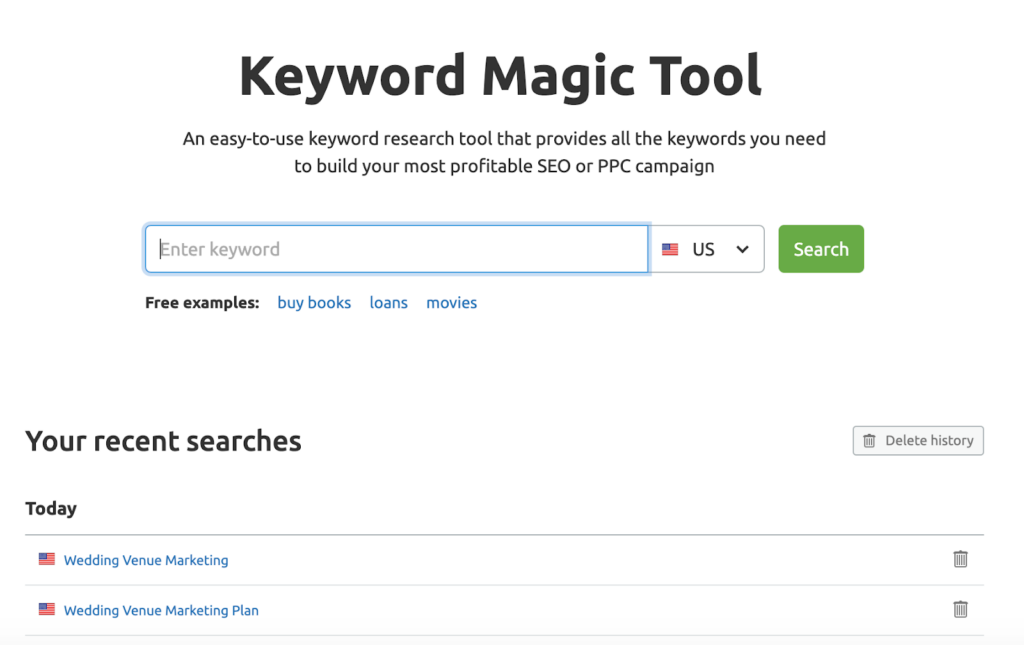 Strategy 3: Have a Goal-Oriented Website
A big mistake you want to avoid when creating your wedding venue website is paying someone to make you a beautiful & INEFFECTIVE Website.
Most inexperienced marketers do not realize that there is a very big difference between a website that looks good and a website that creates results.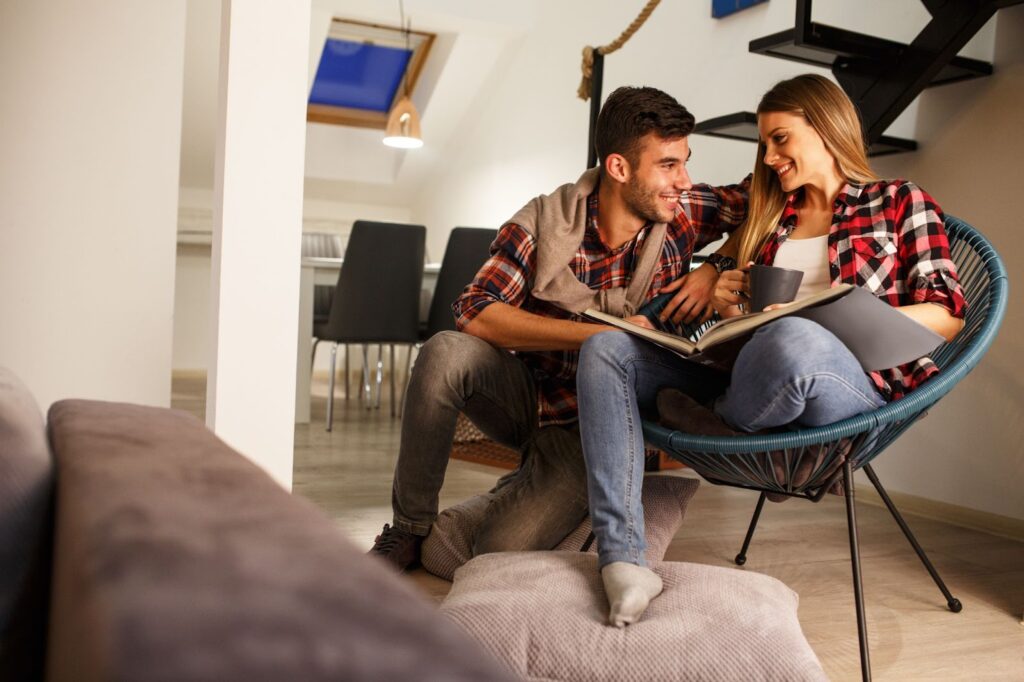 Your website should be designed to get your target audience to take a specific action. In order to get them to do this, you will have to consider the elements of having an effective user experience
Below are some elements of a goal-oriented website:
Readability:
People on the internet no longer read large blocks of text. Keep your paragraphs short and to the point. Try not to use more than 2-4 sentences back to back.
You also want to have a concise title that conveys emotions and inspires action.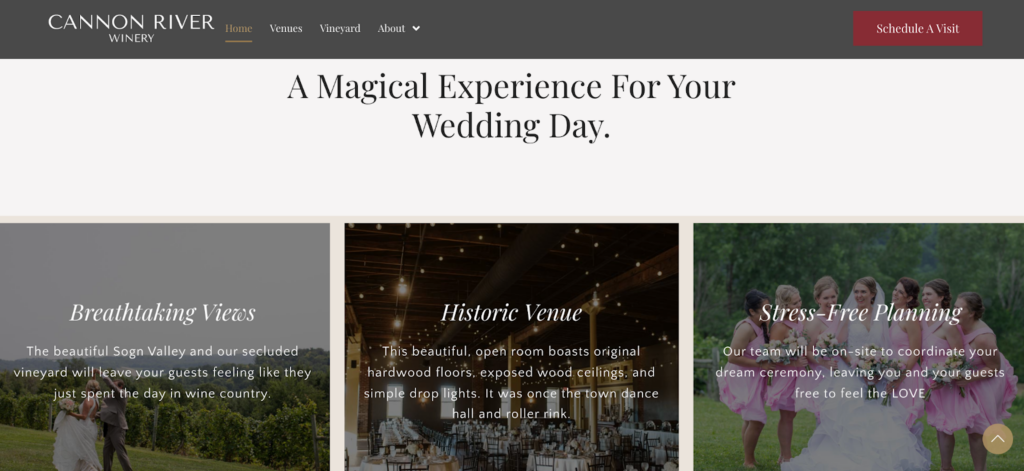 Have a Clear Call to Action:
Primary Call to Action: This Call to Action requires your audience to commit to a person-to-person interaction. Examples of this might be "Schedule Your Free Assessment" or "Book Your Free Tour"
Secondary Call to Action: Your second Call to Action should require less commitment and less trust to sign up for. This call to action may say something like "Enter Your Name and Email to Download Your Free Brochure"
(Your primary call to action is intended to identify people who are more willing to engage in your sales process. Your secondary call to action entices everyone else to sign-up so that you can follow up via automated email drip campaigns).
BONUS TIP: Your call to action buttons should always be the most eye-catching element on your page because it leads people to fulfill your website's main goal (to generate leads).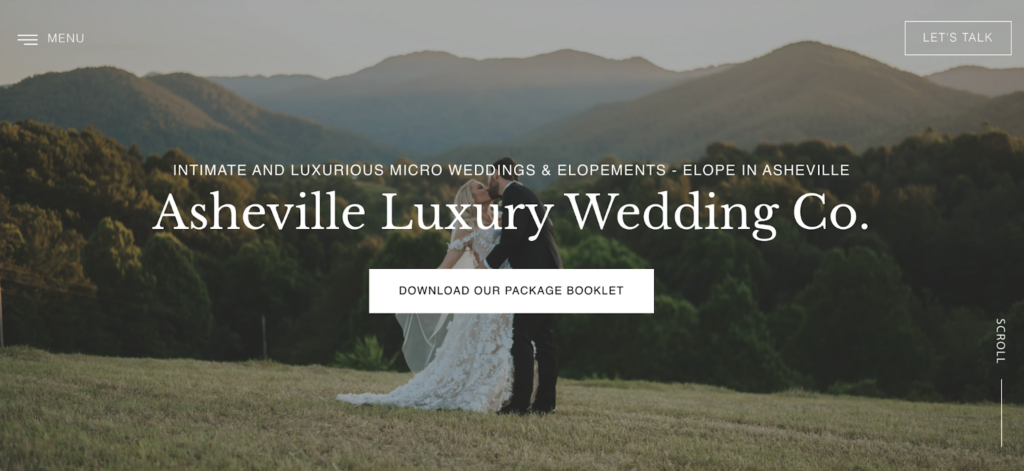 For more information on Lead Generation check out our blog 7 Lead Generation Marketing Strategies: The Ultimate Beginner's Guide to Increase Profit.
Use Imagery:
Brides want to be able to imagine their wedding at your venue. Giving them high-quality images and guided video tours will help them connect their dreams with your venue.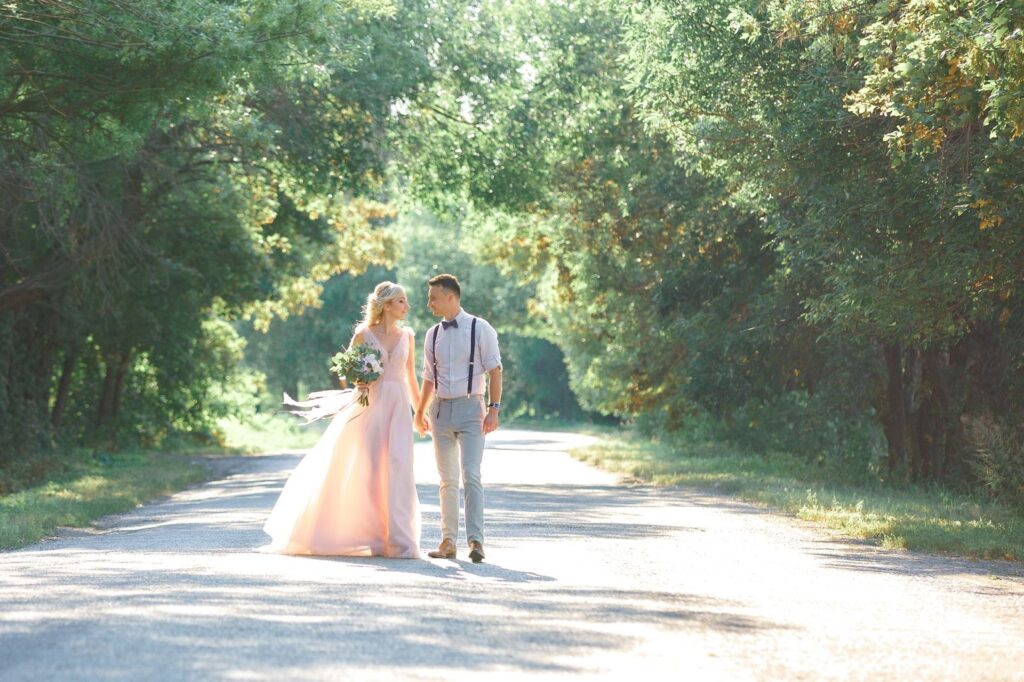 The Hero image (large image at the top of your website) needs to elicit a strong emotional response from your target audience. This is what most web designers call the 'WOW' factor.
In order to inspire your website viewers, you need to understand their deeply felt needs and provide imagery accordingly.
Here is an example of a hero banner we used for one of our clients: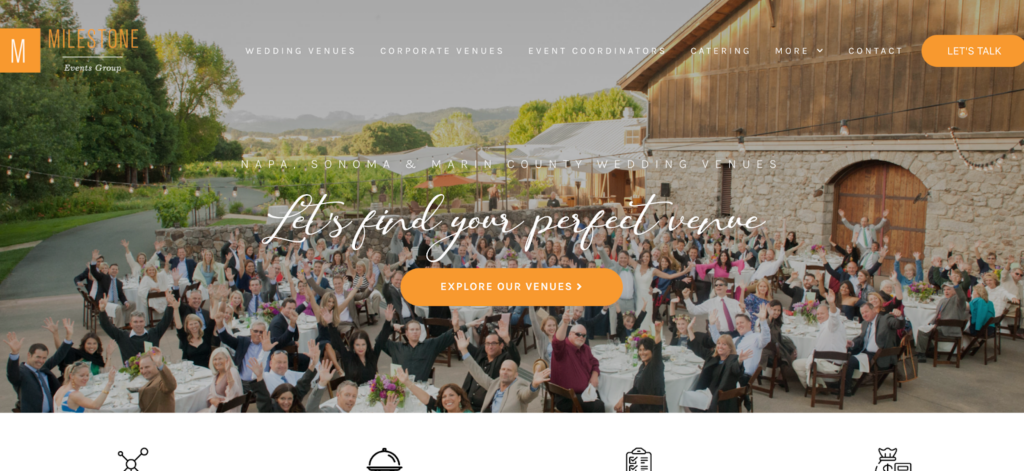 The difference between having and not having a hero image on your website can be measured in dollars and cents.
Provide a Brochure:
A free wedding booklet acts as an immediate sales tool for your wedding venue. Often it's the driving force for converting a lead into a sale!
While your website should inspire your audience to take action, your brochure should provide more detailed information about your venue.
Your brochure should answer your viewer's burning question: What is the pricing? What amenities do you offer? What is your availability? Where is the venue? Where can they have weddings at your venue (indoor/outdoor)?
Putting this information on the brochure (rather than the website) allows you to collect contact information and begin the sales process with your website viewers.
BONUS TIP: We have found that offering all your information on the website can actually decrease the number of leads your website generates because there is no incentive left to sign-up.
Utilize Testimonials & Publications:
Showcasing testimonials of other satisfied couples on your website builds significant and much-needed trust with your viewers.
Here's an example from one of our clients: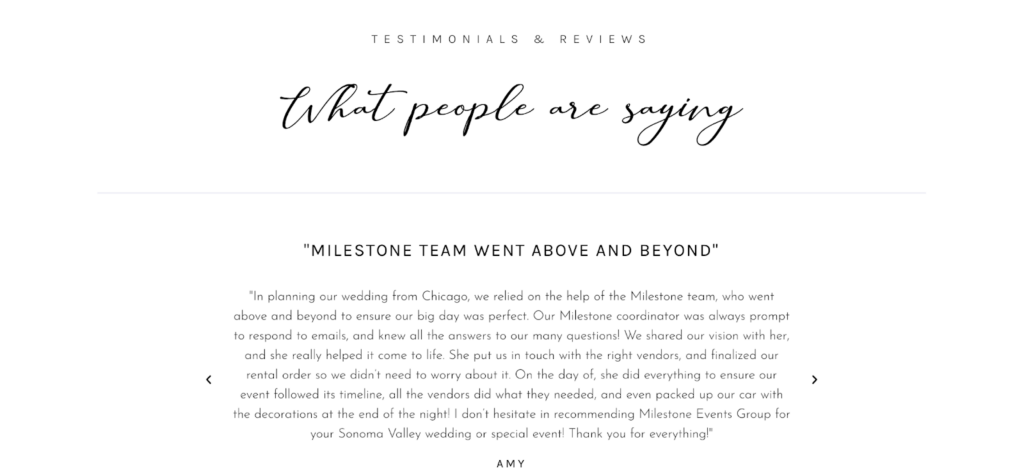 In addition, adding logos of publications that have featured your venue can dramatically increase the perceived value of your venue to your website viewers. It also adds to the trustworthiness of your venue.
Sell an Experience:
In addition to marketing your specific services, be sure to let your audience know what experiences they can expect at your venue.
Is it a mountain getaway? Or a private beachfront tropical oasis? Is it a small and intimate or large family-focused experience? Or is it a once-in-a-lifetime destination getaway?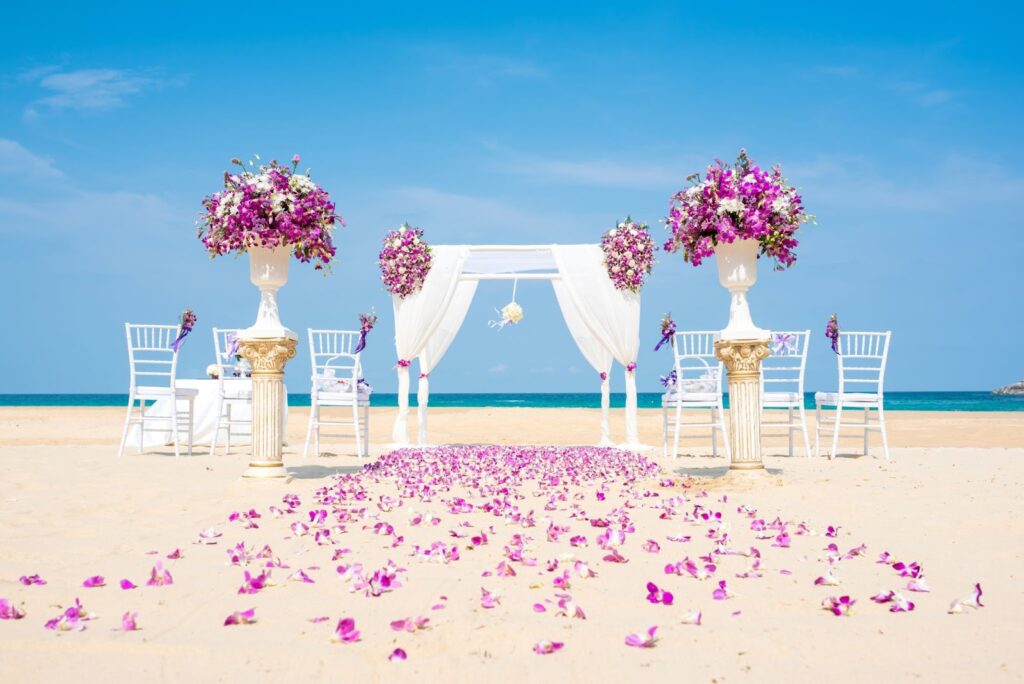 You can go even further to let them know what experiences you offer in addition to the ceremonies. Mountain waterfall hikes, beach access, horseback riding tours?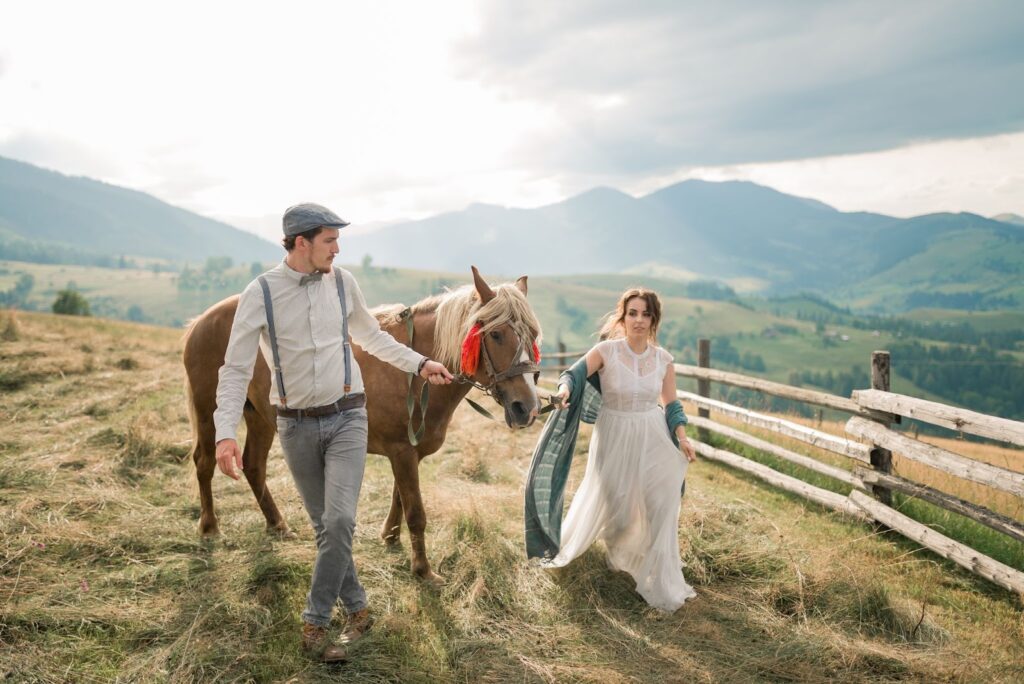 All of these elements offer more than just a wedding, but a memorable and unique experience to your newlyweds.
Have a Dynamic Website:
Once your website is complete, it should be updated at least once a month, if not more frequently. Be sure to add your most recent testimonials, best pictures, newest publications, etc.
Here is an example from one of the sites we created: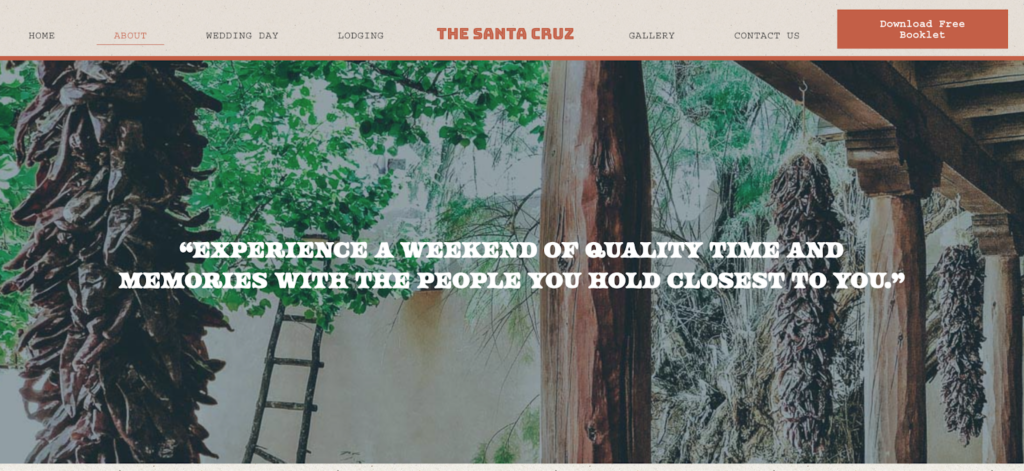 Your website is your wedding venue's portfolio, you want to keep it as up-to-date as possible to show potential clients that you're the most prepared to meet their needs.
Get Your

Free Marketing Guide​
Proven strategies to increase your leads in 2021
Strategy 4: Google Ads
If you're looking for quick sales and hot leads, Google Ads is the place to start. Here are the PROS and CONS of working with Google advertisements.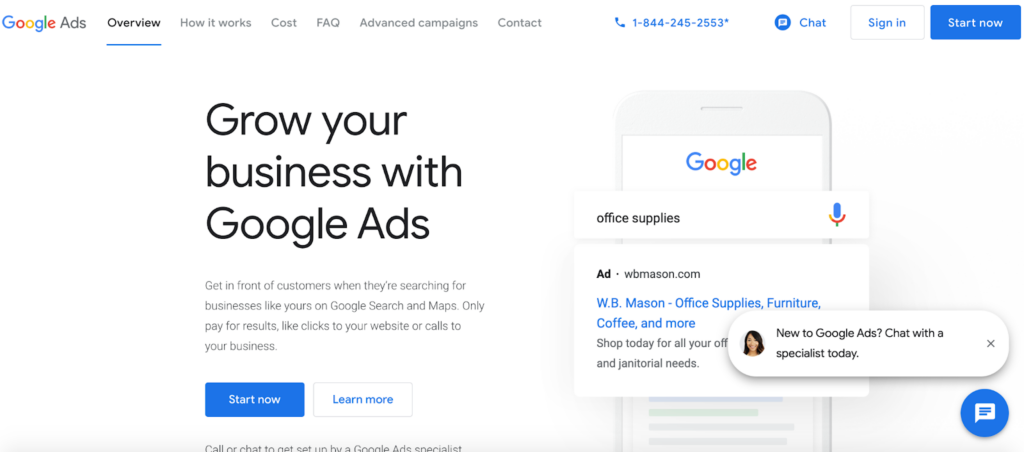 PROS:
If set up properly, paying for Google advertisements and sending the traffic to a professional quality landing page can result in a very low Cost Per Lead
Google Ads show up at the top of the Google Engine Results (SERPs) as soon as you link your credit card to your Google Ads account.
The Cost Per Lead and Cost Per Acquisition you can accomplish with a professionally set up Google Ads account is much lower than you will most likely accomplish with wedding directories like WeddingWire and The Knot.
CONS:
Google Ads is a paid service. If you have a small or nonexistent budget for your wedding venue this may not be the place to start.
Google's advertising platform is highly technical and can lose you money if it's not set up correctly. (Choosing ineffective keywords, incorrectly configuring budgets, inaccurately targeting geographic locations can quickly spend your budget with no results).
If your wedding venue has an advertising budget and wants fast leads, we suggest getting a Google Ads account up and running.
If you take this route, we also suggest you do your research on how to properly configure a Google Ads account or hire a professional marketing firm to set up and manage your account for you.
Strategy 5: Content Creation
If you would like a free, long-term strategy to get more clients this strategy will be for you.
With content creation (blogging) you have the ability to meet the informational needs of your target audience through high-quality articles that rank well on Google.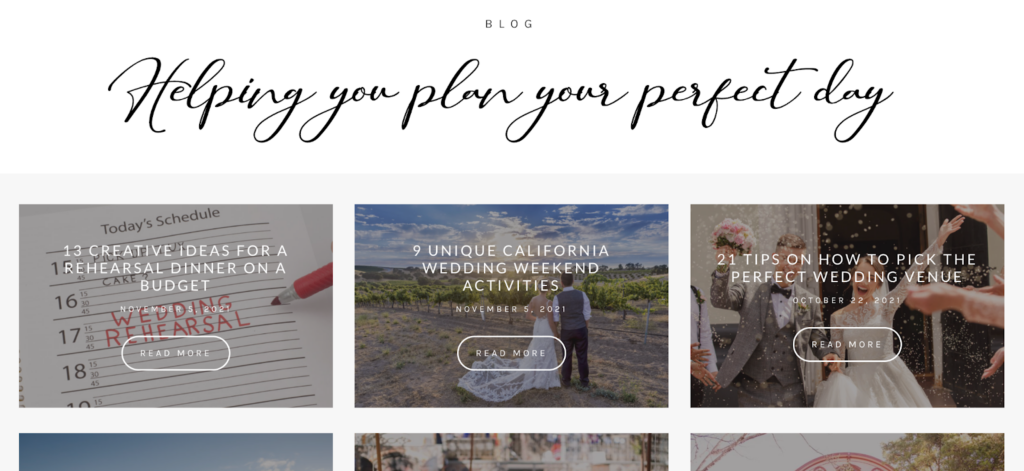 Content creation can also include video content on sites like Youtube, or other forms of content. In this post, we will specifically discuss content creation as writing blogs that establish trust with the reader (like this one).
When writing effective content for your website, you want to be sure you know how to write for readability and for Google's Search Engine (SEO). You can find some really great content on how to do this on backlinko.com.
Writing for Readability:
Use Bold, Italics, and Underlines liberally
Speak at an 8th grade level
Do not use large blocks of text.
Double spacing after every sentence or two will help your reader feel they are getting through text faster and gives them a sense of accomplishment as they read your post.
Use more bulleted and numbered list
Include images every one to two hundred words.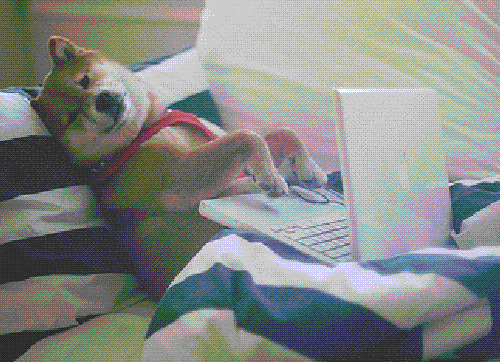 Writing for SEO:
Include your focus keyword in your tag the biggest title/heading at the top of your article. (h1)
Include your focus keyword in the first 100 words of your blog.
Use websites like answerthepublic.com, SEM Rush, and Google Keyword Tool to find additional related keywords to include in your post.
Include two or three external site links in your post.
Include two or three internal site links in your post.
Aim for a post length of 2,000 words or more.
Below are some pros and cons to using content creation to advertise your wedding venue.
PROS:
It's FREE and only based on you creating quality content that outranks your competitors.
If you do your keyword research properly, you get to choose how many people your content will show to each month (you can choose to compete for keywords that get 10 searches per month or 10,000 searches per month).
CONS:
Online content takes longer to produce than paid advertisements.
Online content takes time to be indexed on Google's Search Engine.
Online content is not guaranteed to rank well on Google and takes practice to get right.
BONUS TIP: BE SURE to include a Call to Action button in your article so your blogs can begin creating leads for you.
If you love this article on wedding venue marketing, set up your FREE 1-hour marketing assessment to discuss your wedding venue marketing goals with us! Click the Link and choose a date and time that works best for you.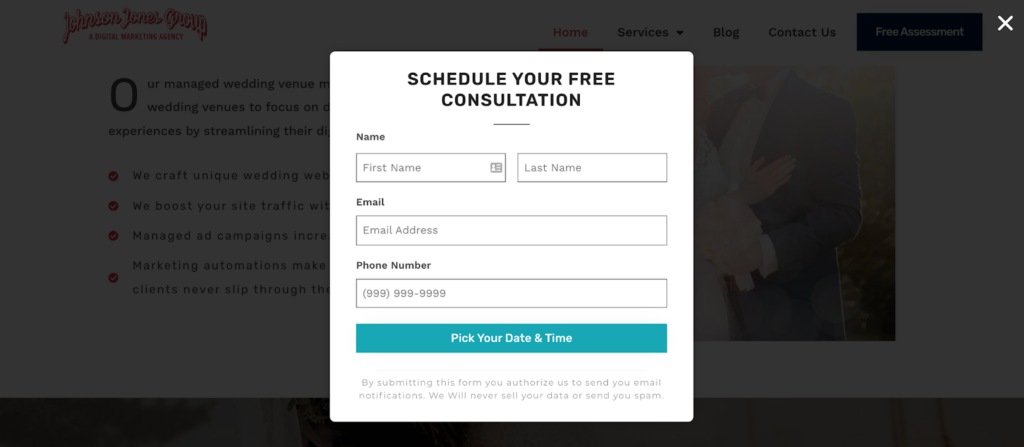 Strategy 6: Wedding Directories
Wedding directories have some notable upside sides and downsides you will want to consider for your wedding venue
PROS:
They do all of the marketing for you. This means you will fill out a profile and the directory sends you leads every month with little to no extra work on your part.
Wedding directory sites get lots of traffic, which means you have the ability to show up for people looking for wedding venues in your area.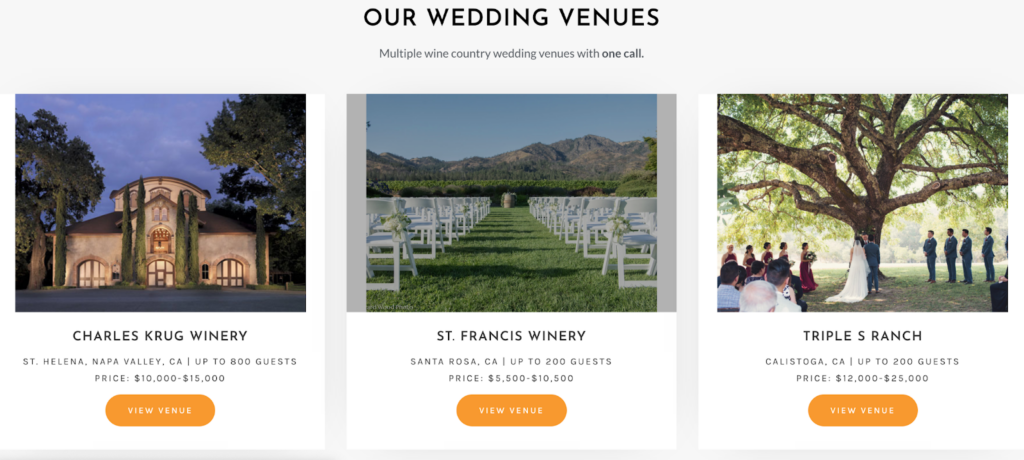 CONS:
The amount of money you will need to spend to get one lead (cost per lead) is often much higher on wedding directory sites than if you were running a well-optimized Google Ads account.
While wedding directories (like WeddingWire and The Knot) get lots of traffic, every other venue will also have a listing on these websites, which means all that traffic is divided up a hundred different ways. Most wedding venues we work with have told us that they receive a very limited number of quality leads every month despite paying for prime listing positions.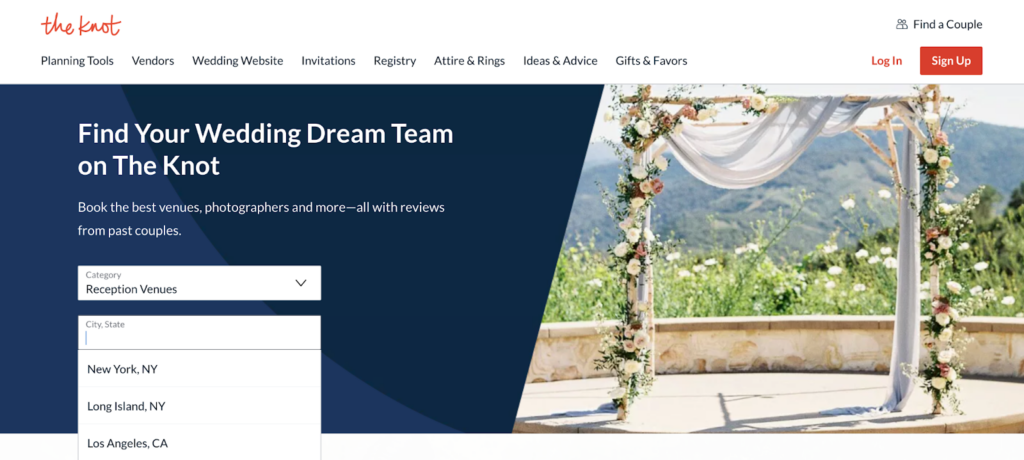 We suggest you invest your advertisement budget into effective Google advertising campaigns and save as much money as you can on paid directory listings.
Be sure to claim any free or low-cost profiles (such as Yelp) for your wedding venue.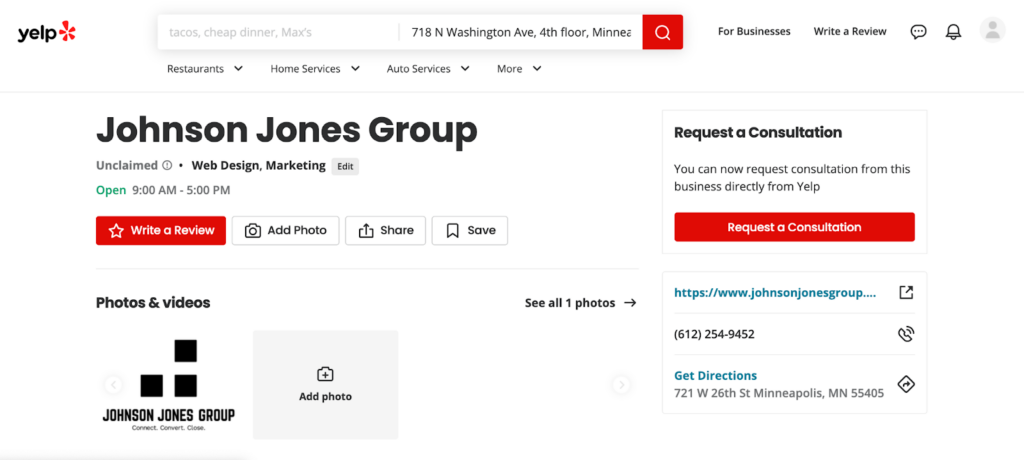 Google My Business is also a great free tool that allows your venue to show up on Google Maps and the Google Map Pack.
Strategy 7: Social Media
Generally speaking, social media is great for branding purposes. Branding does not typically result in fast sales like many wedding venues are trying to find.
If you are satisfied with the high-quality leads coming in through your advertisements and your directory listings, then adopting a social media branding strategy may be the next step for you.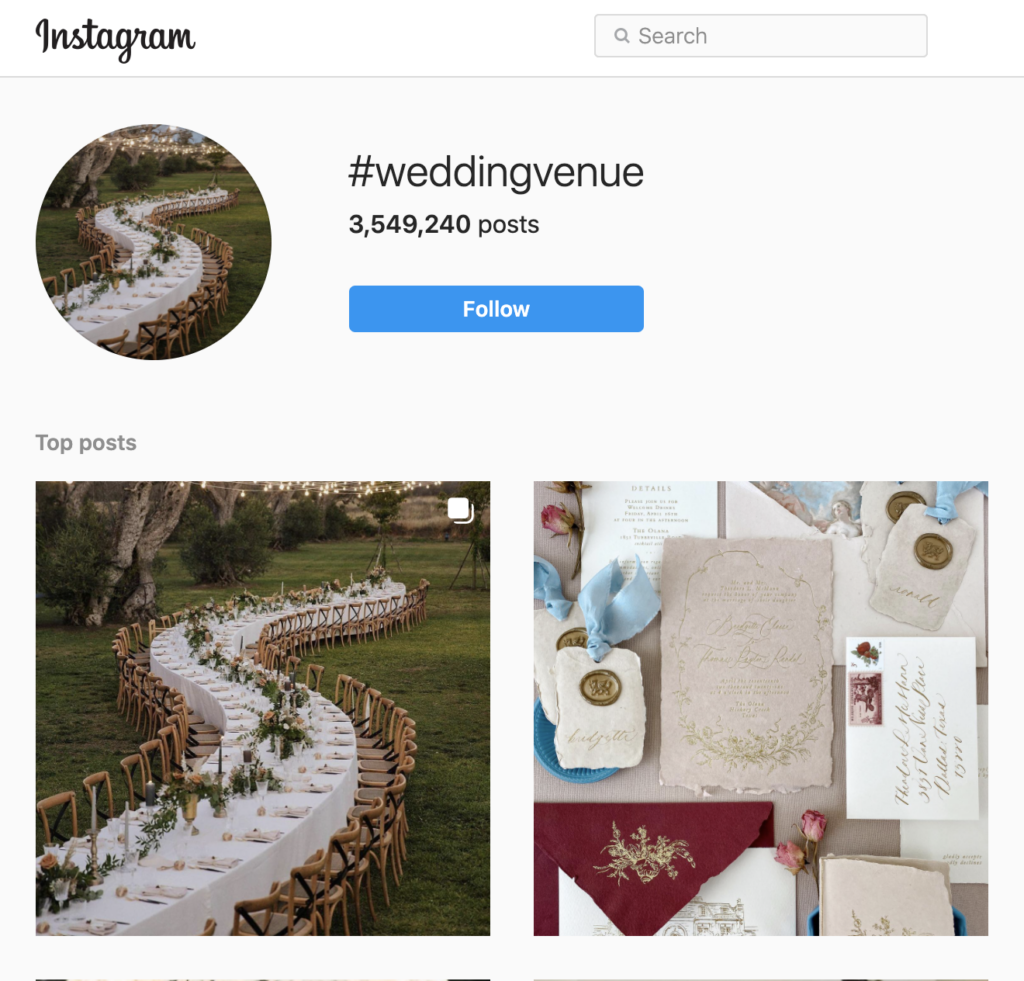 When building your social media presence be sure:
Your branding is consistent across platforms
Post high-quality photos of events at your venue
Run contests with small prizes to engage your audience
Make sure whichever social media profiles you create have up-to-date, consistent, and engaging content
Social media platforms that wedding venues have found great results with are Facebook, Instagram, Pinterest.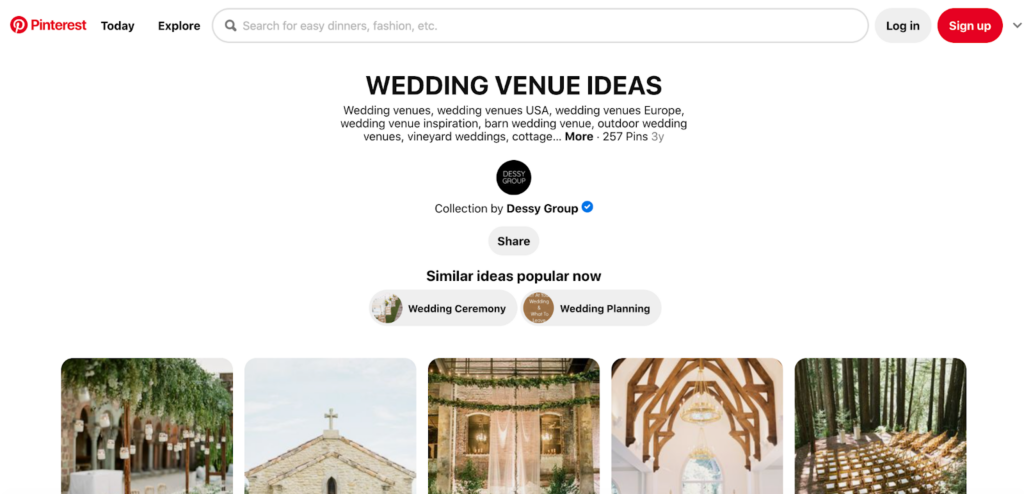 Retargeting Ads
If you have enough traffic flowing through to your website and you would like to capitalize on it more, it may be time to start using retargeting campaigns.
Retargeting ads are usually done through the Facebook advertising platform. When someone visits your website a cookie is placed in their browser. This then tells social media websites to show your retargeting ads to that person.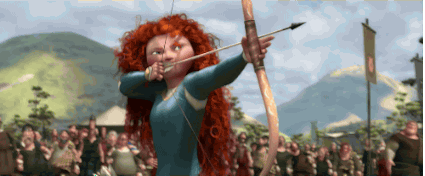 This means you ONLY show ads to people who have already shown interest in your website. Retargeting often leads to higher conversion rates than showing social media ads to people who have never heard of you.
Pros:
Targets people who have already expressed interest.
Effective at building brand recognition.
Can create indirect sales.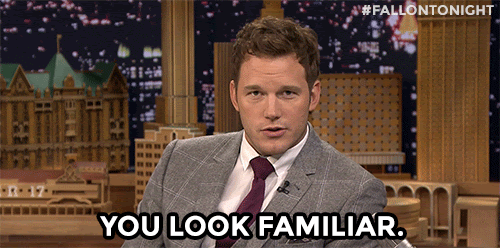 Cons:
This is a paid service
While this type of advertising can generate conversions on your website, it is not as direct as Google ads.
Facebooks Ads
Facebook ads can be shown to anybody browsing Facebook. People browsing Facebook typically do not have a specific problem in mind to solve.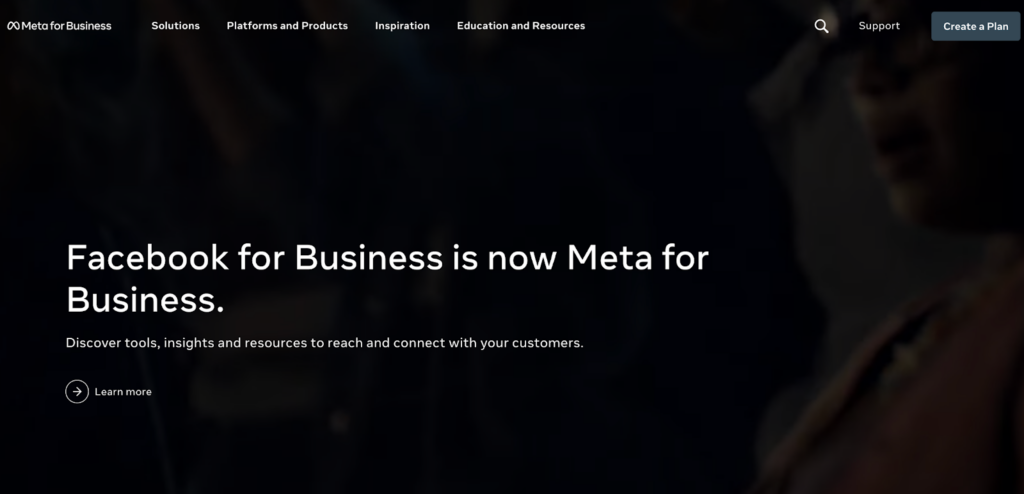 Much like being at a party, people on Facebook expect to browse around without much direction. This results in Facebook Ads excelling at small impulse purchases and brand recognition.
Pros:
Facebook has TONS of ways you can target your specific audience (location, type of device, type of internet connection, and other demographics).
This means there are much more targeting capabilities than other advertisement platforms (like Google Ads).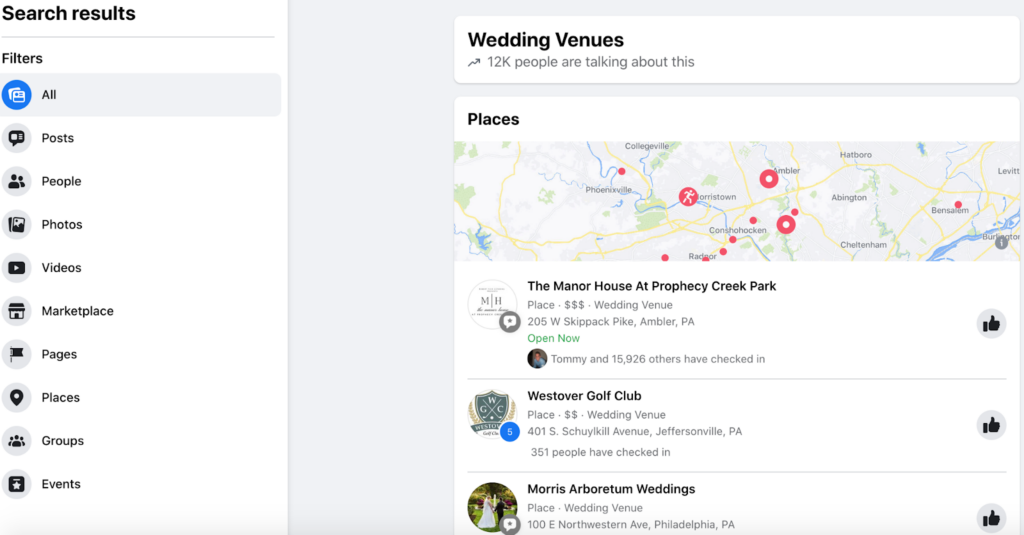 Cons:
This is a paid service.
People browsing Facebook do not usually have the same intent to find your venue as they would if they specifically searched "Best Wedding Venues" on a search engine. For this reason, we have found Facebook ads to be less effective than targeting viewers with a higher intent to make commitments.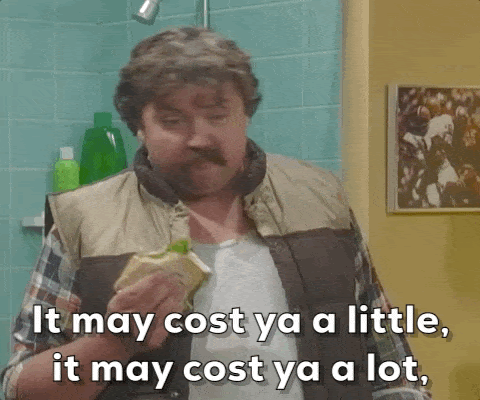 We hope you found this article helpful as you continue to grow your wedding venue marketing.
In what order will you prioritize the following in your marketing efforts (1) directories (2) Google Ads (3) social media profiles?
Let us know in the comments below!