We've constructed this list of the best local SEO services by state for your business to find the right fit for your SEO needs.
Here's how we scored:
Clutch ranking
Top Google rankings
Our experts opinion ranking
To make this list we tried to stay away from agencies with keywords like SEO in their domain name. We also wanted to highlight websites with great website designs that were modern to ensure their services will be legitimate for your business.
We took into account certain metro areas that would not rank high on Google, so we looked into local SEO services in certain metro areas by state. Also feel free to use your find tool (control+f) to find your state easier!
Let's get into the list starting out with:
Alabama
The Nine is a digital marketing firm based out of Tuscaloosa, AL. They hone in on the one thing that sets us apart from everyone else, the internet. They have a great on-boarding process and hands-on client relationship. All the websites they design are responsive, mobile-friendly layouts that look great on any device.
Iron City SEO is a marketing agency based out of Birmingham, Alabama. They are equipped with all the tools that are necessary to help your business grow to your specific goals. They will create a custom local SEO services to tailor your website to your demographic and industries that you need to reach.
Bell Media is a digital marketing agency that provides marketing strategies that deliver great results for their customers. They use local advertising and personalized marketing support to generate positive returns for their clients. They are up to date on their SEO strategies and continuing to develop innovative services.
Alaska
Hype Digital Marketing specializes in making you stand out in the crowd. Hype offers quality Web Design and Web Development services as well as Social Media Management, Search Engine Marketing, Search Engine Optimization and more!
One of the biggest things we loved about AKSYS is they do not keep clients in the dark. Unlike some website professionals, they make no attempt to maintain total control of your online marketing. They understand that the client needs to have SEO knowledge in order to make good decisions. They gladly share their knowledge of SEO putting them on our list of best local SEO services by state.
BuzzBizz Creative did not start out as a digital marketing service provider but took the time to fully understand it. They understand that each company is going to need different services. They are able to focus on the tools that are going to create the most impact on their customers' conversion rate. They also know how industries may change, so they always have their SEO plan ready to go and service packages to be flexible.
Arizona
Markitors connect small businesses with clients and customers…and have a great time doing it. They are an SEO company for small businesses. If you Google "digital marketing company," you'll find Markitors on the 1st page of search results
CS Design Studios have been providing SEO Services for over ten years in Tucson, Arizona. If you are looking for effective business growth in Arizona, then CS Design Studios is the digital marketing agency for you. Their excellent SEO work puts them on our list of best local SEO services by state.
SDARR Studios is based out of Arizona with five different locations. SDARR Studios work with local and national clients to help them stay on top of their industries. Their team is passionate about building and growing relationships with small-business owners. It doesn't matter how many employees their clients have as they are treated the same, putting them on our list of best local SEO services by state.
Arkansas
Ion Agency is a creative technology company that relies on innovation and collaboration to drive their clients' success. They focus on business productivity, automation and web-based solutions means you benefit from a web team with unique perspective and extensive experience in online technology.
Rock City Digital offers a highly thought out SEO plan for their clients. Their SEO team will help your website rise through the ranks of Google. Their main goal is for you to achieve a high search ranking and their SEO experts will enhance your website with specific keywords to do so. Their outstanding work lands them on the best Google rank for local SEO services by state.
Search Engine Optimization is something that Grass Fire Marketing takes very seriously. They want to maximize the number of visitors to their clients website. Grass Fire Digital Marketing wants their clients to rank high on the list of results. Their dedication of wanting to dominate their clients SEO puts them on the list for local SEO services by state.
California
Ignite Visibility is one of the highest recommended agencies on Clutch.co and one of the top digital marketing companies in California. They offer best-in-class SEO, paid media, social media, email marketing, creative, development, Amazon and CRO representing over 150 amazing clients.
Los Angeles SEO Inc. is a digital marketing agency that specializes in SEO. This SEO company helps clients make more revenue through SEO performance data and market research. They create creative SEO strategies for their clients putting them on our list of best local SEO services by state.
Victorious SEO is a search engine optimization company focused exclusively on these services finding themselves on our list of best local local SEO services by state. Their SEO team leverages their clients' industries and makes a custom SEO strategy. Their campaigns help their clients get in front of the right people to increase organic traffic and help clients reach their bottom line.
Colorado
Infront Webworks has been improving client growth while reducing costs and maximizing ROI for over 20 years. Infront Webworks tailors its programs to the goals of the client's website. They identify a strategy that is effective for your website, define goals and implement a program that will get results.
Nuclear Networking is a SEO company that uses high powered softwares. They have algorithm experts in their team who help out with long term SEO results. Their goal is to take their clients to the next level ranking themselves on our local SEO services by state list for Colorado.
Firestarter SEO separates themselves from their competition by focusing mostly on their SEO services. Their narrowed focus on SEO sets up their clients for success and gives the assurance of working with a true SEO expert any other company.
Connecticut
Zero Gravity Marketing is a full service digital marketing agency specializing in digital marketing including search engine optimization, pay-per-click campaigns, content, website design, email marketing, and social media marketing. Their agency also assists clients with brand development by designing logos, brochures, business cards, and large-scale graphics such as trade show booths, signage, billboards and car wraps.
The team at Freshy Sites is ranked in Google as one of the best Connecticut SEO. They make sure their clients' websites are successful. They deliver great website design, web development, and reliable support. Their SEO is what brought us to them and now are on our list of best local SEO services by state.
CT SEO Pro has proven time and again that their SEO strategy is working. They have new clients all the time and focus on growing their clients' businesses. Their fantastic SEO work makes them one of our favorites on the list of best local SEO services by state.
Delaware
The team at Bright Leads Media, Inc. handles the time consuming task of prospecting on your behalf so we can provide you with the best possible leads for your business. They also offer more services geared towards making your business run smoothly without hiring and training an internal sales team.
SEO Geek Squad is a digital marketing and SEO agency that has an incredible track record. They are a young company that started out in 2016 and are located in Wilmington, Delaware. They don't just do SEO work but also are made up of developers, designers, and marketers. Their great work landed them on our list of the best local SEO services by state.
Florida
Bayshore Solutions is digitally-driven, creatively-refined and always results-oriented. Bayshore Solutions is an agency that delivers all the technology, creative, and marketing expertise you need to grow your business. Their integrated team uses proven methodology to build innovative websites and digital marketing campaigns that attract the right audiences, build trust, and inspire action.
Roar Media is the ideal SEO agency that works for various large companies. They solve complex marketing challenges that rely on great SEO work. Their team is made up of various roles like industry strategists, data analysts, technologists, creatives, and builders that help with their SEO.
VSF Marketing provides a range of digital marketing services in Tampa Bay, Florida. They specialize in things like website design, SEO, and website management. Their strength in SEO lands them on our list of best local SEO services by state for Florida.
Georgia
Precision Creative is a website, marketing, and branding firm in the greater Atlanta area. They provide website design, development, hosting, and maintenance as well as marketing services including social media management, advertising campaigns, search engine optimization, graphic design, branding, and more.
M16 Marketing is an Atlanta web design company that has been changing the game with mobile friendly websites for their clients. They have a focus on strategy with their SEO that drives their website design. They are ranked on Google as one of the highest SEO companies in Georgia.
SEO Guru Atlanta was our pick for the best local SEO services by state for Atlanta. Their company offers SEO, Google Ads, Social Media Marketing & Website Design for Cumming, GA and beyond. Their SEO work established them in the state of Georgia.
Hawaii
Shaka Web Design Services offers affordable, custom website design, hosting & support services. At Shaka Web Design Services, they want to give your business an affordable, quality website design that elevates your digital presence to compete as an industry leader in your market!
Nick Ponte Marketing is an expert marketing agency skilled with web developers and designers based out of Hawaii. They focus on SEO where they have tremendous knowledge on how to get powerful results. Nick Ponte Marketing has years of experience putting himself on our list of best local SEO services by state.
Grow Local SEO makes it a point to have all their clients perform. They go above and beyond with search engine optimization tactics and make sure everything their client wants is accomplished. They are a leading Search Engine Optimization and Local Marketing company in Hawaii. They are one of the best local SEO services in their state.
Idaho
SharpNET is a performance based SEO firm. Everyone knows that a SEO firm can't guarantee specific rankings, they will waive their service fees if your campaign is not growing every month. They do not require a time-based contract. With no long-term commitment and a best-in-class SEO performance guarantee, removing any risk for your business.
WebMarkets Digital Marketing are extremely trustworthy and make that a statement throughout their site. Their SEO is fully committed to the clients goals and they keep their management costs within budgets. They have a few different locations but with Google's ranking they perform well, placing them on our list of local SEO services by state for Idaho.
Treasure Valley SEO has been helping their clients get first page Google for 21+ years. They use search engine optimization in everything we do for their clients. They care about each and every new client they get and treat every client with respect.
Illinois
VisualFizz is a full service digital marketing agency that works with growth-stage organizations building their brand, mid-size companies looking to outsource their marketing, and with Fortune 500 companies that feel it's time to try something fresh, new, and more efficient.
Comrade Web is filled with digital marketing experts who have put together thousands of campaigns. Their primary goal is to increase their clients revenue for them. This is done through their state of the art SEO package that increases their clients traffic.
Digital Third Coast is an extremely client oriented marketing agency. They develop custom ways for any business to grow and have had over 300 clients. Their expertise in SEO is what caught our eye and put them on our list of best local SEO services by state.
Indiana
Ayokay is a collaborative boutique of web developers, graphic design artists, social media experts, SEO & content strategists, and event-based marketers. They have experience in many industries including public health, e-commerce, fresh produce and packaged products, government and non-profit.
Rank Brain Media has several locations but they mainly focus on their location in Indiana. Their ranking on Google just shows how great their SEO truly is. Their click through rate is what makes them stick out the most where the higher the click through rate is, the higher rank you will have on Google.
Demand Well focuses their energy on orgain search to grow their clients businesses. They have a combination of developers and marketers that have been at it for over two decades. Their SEO stood out to us for the state of Indiana and is why they are on our list of best local SEO services by state.
Iowa
Team 218 has the experience to build a website that fits you perfectly and doesn't break your budget for your business. They've been creating websites for over 20 years and you won't find a better partner for your web design, SEO, and internet marketing desires.
Inova is a Chicago based SEO agency that specializes in quality content, creative web design, and performance optimization. They help companies enhance their digital marketing and don't have a stigma on your budget or size. Their main goal is to help you gain more online visibility, putting them on our list of best local SEO services by state.
Blue Traffic started out building websites but quickly noticed that the industry was moving towards search based results. They developed the search engine team and are a leading digital marketing company with flexibility for their clients. They ensure your traffic to rise with putting out new content that will lead to higher rankings for your website.
Kansas
Lifted Logic creates experiences, feelings,and engagement that elevate brands. Using traditional and new media, they communicate your message to drive sales, reach goals, and increase your bottom line. Simply put, they deliver results and solve their clients' problems.
RyTechMedia is a digital marketing agency that takes the hardships out of marketing for their clients. They focus on getting your business to rank first on Google and it shows with them ranking first on Google.
Wichita Designs is our pick for best SEO in Kansas that offers full service marketing. They have experts that will create a project based marketing plans for you. They are fantastic at getting your brand the awareness needed to obtain the revenue that you desire.
Kentucky
One Thing Marketing specializes in search engine optimization, local SEO, web design, content marketing, reputation management, and other digital marketing services for local businesses. They proudly partner and work with those in Louisville, KY as well as businesses across the country.
Crosby Interactive is based out of Louisville, Kentucky and has an expert team for SEO. Their Google rank is outstanding for Kentucky landing them on our list. They double businesses revenue through their tremendous work.
SEO Buddies is a marketing company that primarily focuses on SEO without clients paying for a click on Google. This is what stood out to us the most was the fact that they are delivering the best user experience for their clients. Their focus on "free" traffic is appealing the most to any future or current client of theirs.
Louisiana
Gatorworks is a boutique digital agency based in Baton Rouge, Louisiana. They provide strategic Branding, Web, and Inbound Marketing services. They strive to find cutting-edge, yet practical, ways to solve the business problems for their clients. They specialize in providing search engine optimization (SEO), pay-per-click advertising (PPC), social media management, email marketing, and all manner of targeted display, including geofencing.
Online Optimism has been built from the ground up to make for one of the best creative digital marketing agencies in the country. They rank top on Google for the state of New Orleans but also have offices in Washington D.C. and Atlanta. Their designers have a fond eye for SEO and know how to take your business to the next level of traffic.
One Click SEO agency has a team that takes SEO seriously and goes the extra mile to not only look at keyword research but also conversion rates. They have a great outlook on SEO that focuses on lead generation for their clients. Their team wants you to have the best return on investment to keep their clients happy.
Maine
First Pier offers eCommerce & Digital Marketing. No website exists in a vacuum, internet standards change, platforms evolve, business ideas get refined. From site performance and SEO audits to monthly analytics and reporting, we work with clients to prioritize updates and future development. They support your business every step of the way through easy communication, detailed onboarding, and project documentation.
Mainely SEO has worked with various businesses to implement digital marketing campaigns. Their SEO experience will help with your key performance indicators. It doesn't matter what you're looking to increase for your business, they will amplify your rankings to drive in more business.
Pine Point Creative is located in Windham, Maine and will build your website while optimizing for SEO. They understand all the values of Maine and do all their work with those thoughts in mind. Working with great people will increase your business goals.
Maryland
Dragonfly Digital Marketing provides a full suite of digital marketing services, including search engine optimization, pay-per-click, content marketing, and social media management to clients in Maryland, DC, Virginia and throughout the country.
Digital Sprout performs keyword research, detailed analytics research, and will improve your Google ranking. They strive to help your company get its rankings up and running to drive your potential clients onto your website.
SEO Gold knows the difference between CSS and HTML to increase your business's revenue. They help their customers identify which advertising campaigns will be the most effective for them. They also focus on how users will interact with their website and will leverage your digital marketing.
Massachusetts
Tilt Metrics is a results driven search engine optimization (SEO) & digital marketing agency. They help their clients optimize their websites, improve their rankings on Google, and attract new customers through strategic Google Adwords & Facebook Campaigns
Richardson Media Group is a marketing agency that manages paid media advertising campaigns for their clients. Their team has experience in managing conversions and keeping up with campaign analytics. Their focus on the details of your campaigns is what makes them one of our favorites.
TOMO 360 is a marketing company that understands what goes into improving your website's digital presence. They also understand how to maximize conversions through Google, Yahoo, and Bing. They focus on obtaining the exposure for your business's customers to find your services or products.
Michigan
Ten Twentyseven is a collective of researchers, engineers, marketers, and content experts brought together for one purpose; creating value for clients. Their approach is to completely immerse ourselves in each business that they work with, to act as a strategic partner.
High Level Marketing focuses on SEO to get their clients more leads. They want your business to acquire the most organic traffic possible to get your business to rank high on Google. Their experts will monitor your page rankings and adapt to any changes that come up.
Sixth City Marketing is an SEO company with an experienced team that will help gain your business traffic. They will set up a plan for you to get your SEO to start tracking on any search engines. This plan will be custom to your business and they will track your metrics for you.
Minnesota
Romain Berg is a unique digital optimization firm, founded to make digital investments more powerful. They create digital solutions for their clients, capture the attention of relevant audiences, and provide curated content all to help them use the digital space to their advantage
Johnson Jones Group is a digital marketing and web development agency that focuses on small businesses. Their ultimate goal is to generate more sales for their clients while tracking their analytics. They focus on therapists, contractors, wedding venues, and salons. This is their niche that they excel at but are not limited to these industries.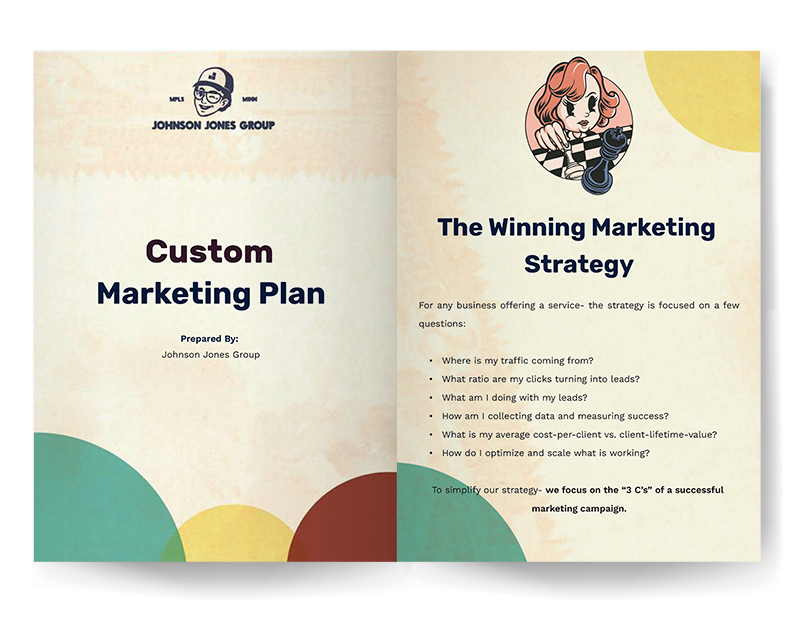 Find Out How We Can Help Grow Your Business
Let's discuss your marketing needs, and we'll help you put together a digital marketing strategy that will generate more leads and save you time.
Claim your marketing plan and get tips on how to boost your sales!
Snap Agency are pioneers in the SEO industry and have been perfecting their process for their clients. With nearly a decade in the industry, they have developed as one of the best digital marketing agencies in Minnesota.
Mississippi
Kraken Digital Marketing specializes in local search engine optimization for the state of Mississippi. They work with a limited number of clients at any given time to ensure personal attention to your needs.
WSI Star Web Solutions know that their effective SEO program will help you target the keywords to get the traffic you need. Their team helps make your content track on Google by implementing keywords throughout. They have an approach that works for all their clients.
The Whit Group is an SEO company that has the goal of growing your business. They realize how important getting results will help your business grow and develop. They will help your business through the whole process and figure out how to improve your business throughout the process.
Missouri
LeadValets helps manage lead generation through their programs with no management on your side. They handle all aspects and you receive the leads and will produce an extraordinarily strong ROI for your business.
St. Louis SEO Company is a marketing company that specializes in search engine optimization. Their process includes breaking down how to make SEO work for you. Once your plan is created, they will track your analytics and improve from there.
Lift Division is looking to guide your business through the vast marketing landscape on search engines. They provide tailored goals and overall branding for your business. Their team's work allows your business to have lasting effects that keep your business ranking.
Montana
It's Geek To Me is a digital marketing company based out of Montana that preforms local SEO services. Their team wants to make sure that Google and other search-engines can find us. They are a website design company full of website designers.
Big Storm is a Bozeman Web Design, SEO, and Digital Marketing company that specializes in SEO. Their team focuses on increasing your reach through Facebook and producing revenue through that. Their team uses data to showcase the different opportunities that can increase your clients or leads.
Digital Marketing Missoula uses their own SEO strategies to develop your sites ranking and search results. They provide keyword rankings that you should be using in your content to achieve higher rankings.They are customer focused making them one of our favorite SEO companies.
Nebraska
JM is the essential resource for your online presence in the state of Nebraska. Offering web design, web development, web marketing and web hosting, JM can creatively design and effectively market a website for any industry.
Omaha SEO Company was created to fill the holes in the SEO industry. They provide your business as a true partner with SEO work that will increase your revenue. Their local SEO services plan will include research, planning, consulting, and on/off page SEO work.
Ascent SEO breaks down for the client how to understand what it really means to rank on Google in the state of Nebraska and beyond. They will help customers of yours to find your products or services easier. They will increase your visibility and get you on the map pack on Google.
Nevada
NeONBRAND is located in downtown Las Vegas and specializes in search engine optimization, Social Media Management, Custom Web Design and general brand exposure. Their clients do well online because they work hard month after month to get them the exposure they deserve.
Digital Dynasty Marketing focuses on SEO as their main specialty. Their SEO service will put your company in front of all potential clients that you are not currently reaching. They will bring in these serious buyers through their SEO plan and drive revenue in for you.
Sage Digital Agency strives to optimize your website so that search engines will rank you higher. They can help with on page improvements that will improve your users experience and page loading time. They are also proficient at getting your business in the Las Vegas map pack.
New Hampshire
Flylight Media focuses on efficiency and allows us to provide agency-quality websites, "headless" ecommerce, and digital marketing solutions to outstanding businesses. Their goal is to help their clients develop a strategic solution to achieve your business goals and then execute on every aspect of it.
The Pivot Plan is a marketing agency with designers, developers, and marketing strategists. They take pride in creating unique experiences for their clients. They know how to rank your company high on google, making their SEO package one of the best in New Hampshire.
Loud Canvas is based out of New Hampshire and has a long track record of marketing campaigns for their clients. They create campaigns that are specific to their clients needs. Their SEO work is not just for your website but also for all your social media accounts.
New Jersey
Shoreline Media Marketing offers an optimized web and SEO strategy for businesses. They have proven and have an industry leading strategy that will increase your visits, conversions, and social network engagement. From web development and search engine optimization to call tracking and marketing automation we organize and execute it all.
Biz Map LLC is your premier SEO company in the state of New Jersey. They have clients all over the globe showing that they are skilled at finding keywords that will help your business grow in your area.
Saga Pixel is a SEO digital marketing agency that is based out of New Jersey. They serve clients not only in the United States but also the United Kingdom. They have built countless search engine presences for their clients for over 10 years.
New Mexico
Duke City Digital has helped dozens of businesses in New Mexico and all throughout the United States with software and web programming. They are proud to have designed solutions for an array of clients from restaurateurs and retailers with their local SEO services.
Digital Harvest has copious amounts of keyword research and campaigns that has allowed them to figure out how to grow your business for you. Their SEO work has created a way for them to bring in quality leads for your customers that are looking for your services.
Simply Design INC. is focused on getting better ranking and advertising that will produce more leads that allow you to obtain the revenue you desire. Their family-like approach where they treat you as such, allows them to make you feel comfortable with their services.
New York
Sure Oak is on a mission to empower people to reach their full potential and live out all their business dreams. They make it happen through SEO with their full service SEO plans that offer unparalleled expertise along with proprietary growth strategies to get businesses ranking higher and growing faster.
Iron Paper is a marketing agency that uses inbound marketing to help your business gain traffic. They utilize various forms of content to bring in conversions as well. They created custom sales funnels for each client's goals to rank higher.
CoForge offers a range of different marketing services that offer various strategies. They have a great SEO team that will work with you to find out which marketing outlet works best for you.
North Carolina
BellaVix is a marketplace management company that works directly with consumer retail brands that want to increase sales to the world's largest marketplaces like Walmart and Amazon. They know that some companies struggle with having the resources and knowledge which leads to missing sales targets and poor account performance metrics.
Go Fish Digital is made up of a talented SEO team based out of Raleigh, North Carolina. They will create a perfect fit SEO plan for your business and develop the plan as you work with them. They are results driven making them a great fit to get your ranking higher.
E-Dreamz provides different ways to take your business to the first page on google. They increase your rankings through keyword research, your competition, and optimizing your site. They work with medical facilities and practitioners, so that they don't get far away from what they know.
North Dakota
MNL Marketing provides integrated digital marketing solutions like local SEO services. They bring expert thinking, creative execution and professional excellence to every project, and invest our full attention to understanding your needs to the fullest.
Ad Shark Marketing focuses on ranking keywords on your website that will optimize your rankings. They know all the factors that go into SEO services and will exemplify your business on search engines.
701 Studios follows the latest trends when it comes to their SEO package. They will help write code that Google likes to increase your traffic. They don't just provide SEO work but also are skilled in web development and analytics for your business.
Ohio
Sanctuary partners with clients to build custom websites and use marketing tactics such as search marketing, social media and email to drive leads and sales for your business. Their team is made up of highly experienced and creative specialists in a range of digital marketing disciplines, from marketing strategy and execution, writing, visual design and development to social marketing, user experience design, analytics and more.
Outer Box Design offers great local SEO services if your business is in need of SEO services in Ohio. Their customized local SEO services will help your business rank high in your area that your business is targeting. They have their website ranked first for the state of Ohio proving that they know what it takes to gain traffic on search engines.
ForeFront Web is located in Columbus, Ohio and has been providing SEO work since the early 2000s. They have seen how the algorithm has changed over the years and they have found new ways to lead your SEO endeavors.
Oklahoma
BigWing has become the largest, most trusted online marketing company in the state of Oklahoma servicing clients in 26 states. They're a full service digital marketing agency offering web design and development, content marketing, organic SEO, paid search, retargeting, social media management and local SEO.
High Five Media provides a ranking service based out of Oklahoma City. They start out by evaluating your website and everything about your business online to create a plan to rank your websites landing pages higher on google.
Go Krush has a team of SEO specialists who know how to implement your business on search engines. Their approach to their clients is what stood out the most to us, where they have a personalized approach to your business.
Oregon
Portland SEO Growth is a Portland based SEO and content data company. They work with companies large and small in various industries. They have large clients that are on the Fortune 100 list and the Forbes Global 2000 List.
Logical Position is filled with SEO experts that will help you develop your strategies to increase organic search rankings. This will lead to sales for your company and allow you to keep growing your business. They understand not everyone will have the same needs, so their packages are custom for you.
Sproutbox understands that marketing is hard if you have no idea where to start. They suggest the best place to start is with their SEO service. They use local and national SEO to improve your rankings to drive in more business for your company.
Pennsylvania
Mole Street is a marketing agency that focuses on strategy and data analytics to build trackable digital contents that drive quality leads for their clients. Their specialty is paid acquisition channels, conversion rate optimization, SEO, and customer psychology.
Nustream Marketing is a digital marketing company that has experience in web design, SEO, and video production. They set up ad campaigns that are customized to your business. They will work with you to create a plan to boost your traffic and bring in sales.
SEO Vineyard is based out of Pittsburgh, Pennsylvania and has SEO experts ready to help your business grow. They are involved in digital partnerships that will set you up for success. They have created over 300 websites, so you can say they know a thing or two.
Rhode Island
Old Planet Media specializes in digital marketing, graphic design and social media management services. They offer affordable solutions for all your web development, review management, video and photo needs.
Black Door Creative knows that one of the best ways to be successful is by have your business visible for your customers to find. They utilize their local SEO services to help your business get an edge on your competition. By doing this, it will increase your desired traffic to reach your site.
Sidewalk Branding focuses on the online branding of your business. They use their local SEO services for Rhode Island and have become one of the best in the business. What caught our attention was the fact that they have such a welcoming approach for their clients.
South Carolina
ClickGiant develops custom marketing campaigns based on a Google-friendly, content-centric approach. They improve rankings and quality organic traffic with on-site SEO and high-level, conversion-worthy, optimized content for your business.
Digital Coast Marketing is made up of experienced and talented SEO professionals. They have various locations but their South Carolina location caught our eye. They have effective strategies that will increase your company's optimization, content, and results.
Palmetto Soft Digital Marketing Agency has been in the SEO industry for 20 years and they strive to bring their clients great work with their marketing practices. They want to know your goals and ambitions for your business and then they will try to achieve them for you.
South Dakota
Link Builders is a SEO agency specializing in backlink building located in the state of South Dakota. Their agency helps businesses improve the authority of their website by building high quality backlinks.
Linchpin SEO is a search engine optimization company that focuses on local SEO. They believe that constant testing and performance tests will help you understand how to drive in better traffic. They have also eliminated overhead costs so that they can provide the maximum ROI for their clients.
Henkin Schultz is a marketing company that focuses on a range of marketing services. They are a full service creative agency that specializes in transforming brands. They have shown their skills by growing various businesses.
Tennessee
Higher Visibility is a leading full service digital marketing agency that is focused on generating a positive ROI for their clients. They understand that leads and sales are why the majority of companies seek out their services, and they have the track record of delivering great work.
Horton Group is based out of Nashville, Tennessee and specializes in search engine results using white hat SEO. Their team knows how to deliver the results, while keeping your business on track. Their work shows that they have been successful in getting their clients to rank high on search pages.
JLB Works has over 17 years of experience in the SEO industry based out of Nashville. They help your company obtain higher search rankings. They also create websites that will be embedded with SEO codes to help track your overall performance.
Texas
Neon Ambition is an inbound marketing agency that helps companies achieve their goals for growth using the most appropriate online marketing strategies executed by our senior staff. Their core capabilities include SEO, paid search and social media including Google Ads, Facebook Ads, and LinkedIn Ads.
Regex SEO is filled with search engine optimization experts who want to help businesses increase their online presence. Their SEO services are truly custom to your business. They want to build your traffic through every marketing channel.
SEO Company Houston will guide your business through their SEO program. They have a results focused approach to increase your business dramatically. They work with small and medium sized businesses to increase their leads and revenue.
Utah
Boostability is the global leader in providing SEO for small to medium-sized businesses in America and abroad. They specialize in helping businesses rank online and get 85% of their customers to the first page of Google within 6 months of working with them.
Octiv Digital is a SEO company that knows a great business needs a well built website. They know the content on your website will make for a higher ranking on Google. They will audit your website and start implementing tricks to help you rank.
Utah SEO Pros are digital marketing experts that will help your company's needs. They operate with the best techniques and optimizations to get you ranked higher on search engines. They believe in your business just as much as you do yours making them one of the best SEO companies in Utah.
Vermont
Eternity is a full service web design, development, and digital marketing firm located in Burlington, Vermont. They will help you build your websites and develop a relationship with their clients using local SEO services in their state of Vermont..
Monte Verde Media specializes in search marketing for their clients. They provide custom made packages for your business needs. They work with various brands to help get your business ranking well with SEO, web development, and content marketing.
VT Web Marketing provides SEO work for small businesses to improve their online visibility. They focus on optimizing your website so that it will show up naturally on Google. Their amazing work is not just in SEO but all parts of marketing making them one of our favorites.
Virginia
W3 Affinity provides services for businesses and marketing managers who want to grow their businesses presence and conversion online, and need to conserve budget while getting proven expertise in digital marketing and local SEO services.
Silverback Strategies is a marketing company that is based out of Virginia. They are collaborative with each client where they are able to enhance your business through various routes. They will help your business grow with the help of their clients providing them content that they will rank them for.
Polianna is a result oriented company that helps your business grow and respects your time. They strive by connecting with your business and working as a team. They are focused on different labor clients that they can help save their time and money by advertising online.
Washington
Pronto has built and managed 3,000+ WordPress websites for small and medium sized businesses. They will create a launching, maintaining, promoting, and updating your WordPress website for your customers experience. They do everything from design, development, maintenance, local SEO services and Google ads.
Seattle Organic SEO touches on various types of SEO that will bring you the traffic you want. They know the ins and outs of Google and show it through their own ranking on Google. They will handle all your SEO needs, creating all the traffic you desire.
Biz Pro Digital Marketing Services focuses on local SEO services, where they will capitalize on your location. They help your business develop its online presence and collect your data so that you know how your business is performing. They will help you optimize your website through things like directories and search engines.
West Virginia
Alta Effect Productions team is made up of accomplished marketers, designers, and developers. Their team knows what it takes to get real results online especially through their local SEO services. They also keep an eye on your metrics that are significant to your traffic.
eOptimize uses white hat SEO to help your business grow on Google by ranking you high on the page. By doing this, they will help your business obtain leads and sales. They clearly do a great job on Google as they are rank #1 on Google currently in West Virginia.
Digicorns is one of the best SEO companies that provide SEO solutions that will help your business reach its ranking desires. They will help not only your short term goals but also your long term goals. They are one of our favorites that really put enfaces on their work and accomplish your needs.
Wisconsin
Egochi is a website design and digital marketing agency that is known to create interactive business websites for customers and advertise for them through on page and off page SEO and effective digital marketing strategies.
Momentic Marketing provides SEO services with custom and full scale SEO projects. They offer different packages like their SEO Infrastructure package to quickly start your SEO success. They team up with other agencies to help your business making them one of the best local SEO services.
Heaviside has done countless SEO projects all over the world. They have a structured approach to getting your website tracking on Google. They're one of the best Wisconsin marketing companies and are specifically located in Milwaukee.
Wyoming
Moral SEO has a values driven approach for their SEO agency dedicated to boosting their clients rankings. They rely on statistics and clear observations on search engine algorithms. They make a clear plan so their strategy is not random and have a developed local SEO services.
Sharpnet Solutions has over 20 years of experience as a SEO provider. They offer one of the best small business SEO programs. SharpNet keeps their SEO package affordable and effective for their clients making them one of the best local SEO services by state for Wyoming.
SMN Content knows that just having a website is not enough to obtain the traffic you want for your business. They will handle that for you by developing your landing pages, so that they will track on google and rank you higher. Their service is great for Wyoming businesses putting them on our list of best local SEO services by state.