I already know you're excellent at your trade.
Unfortunately there is a large difference between being your city's best contractor and running a successful contracting business.
What professional marketers understand is it "if you build it, they WON'T come". Expecting clients to show up on their own is no longer a viable business strategy.
In this article we are going to discuss the best marketing strategies for contractors you can use to get more leads and grow your business.
-Strategy 1: Find your Target Audience
-Strategy 2: Keyword Research
-Strategy 3: Have a Goal-Oriented Website
–Strategy 4: Google Ads
-Strategy 5: Content Creation
–Strategy 6: Directories
-Strategy 7: Social Media Marketing
–Strategy 8: In-Person Marketing
Strategy 1: Find your Target Audience
To create marketing content that is appealing to potential buyers you have to know WHO your audience is and WHAT they want to hear from you.
This can be accomplished by creating a buyer persona for your contracting business.

A buyer persona is a semi-fictional representation of your most common client.
Name: Jim Haul
Age: 45
Socioeconomic Status: Upper Middle Class
Job Type: White Collar
Relationship Status: Married
Children: 2
This buyer persona indicates that Jim not only has a lucrative career but is also in some of the highest earning years of his life.
Since Jim probably does not enjoy working with his hands, his deeply felt need is to have his contracting needs done right by a company he can trust.
"Experienced marketers know that trying to speak to everyone results in meaningfully communicating with no one."
Though Jim is not a real person, writing all of your marketing material as though you are speaking to him and towards his deeply felt need will allow you to communicate meaningfully with your target audience.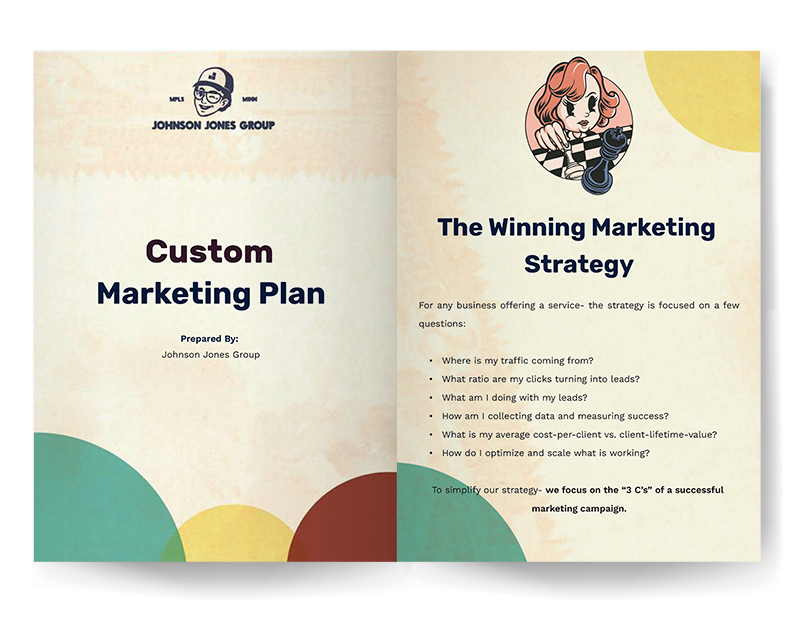 Find Out How We Can Help Grow Your Business
Let's discuss your marketing needs, and we'll help you put together a digital marketing strategy that will generate more leads and save you time.
Claim your marketing plan and get tips on how to boost your sales!
Strategy 2: Keyword Research
Before getting further into your marketing efforts, doing in-depth keyword research is an absolute must.
When you find the best keywords for contractors, you will be more likely to show up in front of your potential clients in search engines and through advertising.
All of your digital marketing efforts, (content, advertising, SEO, etc) begin with finding keywords for contractors.
Google logs every search typed onto the Google Search Engine. Each of these words and phrases (also known as keywords) are tracked by Google.
Some keywords are searched 10 times a month, others are searched 100,000 times a month.
Your contracting business websites, content, or advertisements will ONLY appear to people searching for the keywords you select.
"Most contractors make the mistake of using whatever words come to mind. This mistake frequently results in few people finding their website and services."
Two great tools you can use to choose the most lucrative keywords for your contractor marking effort are:
Google Ads Keyword Planner (Free)
SEM Rush (Paid)
These programs will tell you:
Search volume: How many times each keyword is searched per month.
Keyword Difficulty: How difficult it is to rank number 1 on Google for the keyword on a scale of 1 to 100.
Cost Per Click: How much you can expect to pay on an advertisement on the Google Search Engine.
It's not enough to just pick the word with the highest search volume. You have to think critically about how the key word is being used as a search term.
Someone searching for "Contractor Jobs" could be searching for employment, rather than a commission. Understanding the intent behind the search is a big part of key word research.
Strategy 3: Have a Goal-Oriented Website
To generate more leads through your website you must create a seamless experience for every visitor.
This is called User Experience Design.
Some key elements to include on your website are below:
Readability:
Write in short sentences at an 8th grade level.
Keep paragraphs 2-4 sentences long.
Double space between each paragraph.
Headlines should be clear and concise (Our Services VS Affordable Roof Repair and Replacement Services).
Have a Clear Call to Action:
Identify what you want your website to accomplish (schedule a meeting, get a free consultation, claim your free quote, or schedule a site survey).
Include buttons on your website that call people to take this action (Schedule My Free Site Survey!)
Your call to action should appear on every page of your website, including content/blogs, homepage, about, etc.
Use before and after pictures to your advantage on your website.
You can also use videos to testify to your excellent services.
Provide a Brochure:
Create a PDF Brochure and require name, email, and phone numbers for visitors to download it. This acts as a lower commitment Call to Action that supplements your primary Call to Action. This will be how you acquire qualified digital leads.
Utilize Trust Building Techniques:
Include testimonials on your website of your most satisfied customers.
If you're an expert or if you're certified, let people know. Include badges or other visual evidence on your website.
If your agency has on any awards be sure to feature it in a visible area.
Include logos on your website of every publication you have been featured in.
Don't let your website sit for months or years without updating it. Updating your website once a year gives it a boost in search-engine rankings.
Use programs like Google Analytics to see what's working on your website and what's not. Make changes to increase your website's Lead Generation efficiency.
Using user experience strategies like these can help to significantly increase and optimize your website's conversion rate.
Strategy 4: Google Ads
Google Ad is an advertising platform created by Google that allows you to show advertisements on the Google Search Engine.
These advertisements appear to your target audience as they are searching for your services.
Creating advertisements that show up at the top of the Google search engine can result in bringing people to your website who are ready to make a purchase.
Make sure the keywords you target in Google Ads have Buyer Intent (the intention of the keyword is to make a purchase). Example: How to build a porch VS Porch building services near me.
Be sure to fill out all the areas of each ad. Don't forget to create extensions. These increase the size of your ads and push your competitors down the page.
Review and optimize your ads account frequently.
Use advertisements with landing pages to create a seamless transition. Never send advertisements to your homepage.
Use the location setting in Google Ads to target only the geographic areas that you serve.
Strategy 5: Content Creation
Writing a blog that shows up at the top of the Google Search Engine (for a specifically targeted keyword) can result in bringing in hundreds or thousands of new visitors to your website every month.
There are two main factors to consider when writing a blog.
Readability for Your Target Audience
Picture every 100-200 words
2,000-5,000 word posts
Liberal use of Bold, Italics, and Underlines
Bulleted and numbered lists
Include Calls to Action
Write in first person to keep your post authentic and build relationship with the reader
Write to a single reader as opposed to everyone.
Include your target keyword in your H1 Title tag
Include your keyword in the first 100 words of your blog
Include 3 internal links
Include 3 external links
Include the keyword in your URL Slug
Keep your URL Slug as short as possible
Find and use similar related keywords to give Google context.
Check out our blog The Ultimate Guide to SEO for more SEO tips and strategies.
Backlinko is also a great resource for writing effective content creation for your contracting business.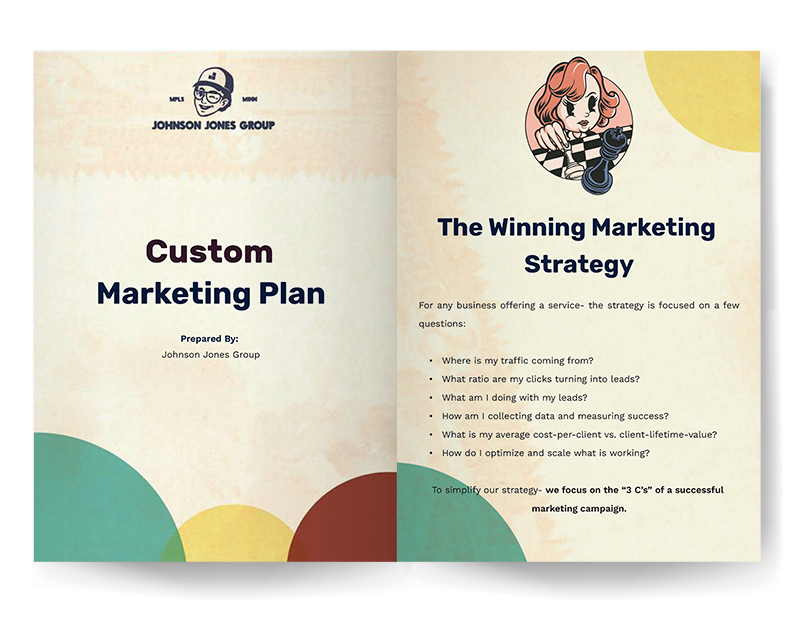 Find Out How We Can Help Grow Your Business
Let's discuss your marketing needs, and we'll help you put together a digital marketing strategy that will generate more leads and save you time.
Claim your marketing plan and get tips on how to boost your sales!
Strategy 6: Directories
Large online directories like Yelp frequently show up as the number one Google search result. This means you can increase your website traffic by claiming profiles for your business.
Be aware, some listings will be paid. Others like Yelp will have a free listing. At least be sure to claim your free listings.
Write out in advance the exact Name, E-mail, and Phone numbers you want to use in all of your directory listings, including Google My Business and your website. If any of this information is different between directories Google may derank your site, so make sure it's EXACT.
Be sure to fill out every field available. This gives your profile an advantage over the majority of people who just skim through and fill in the basics. It Also allows you to take up more space with the ad, giving you an advantage over your competition.
Use the same image and branding across all your directory profiles.
ALWAYS include a link back to your website.
Also be sure to utilize Google Map Pack to show up on the top searches for your industry.
Strategy 7: Email Marketing
When your website is collecting emails, it's time to begin building a relationship that can lead to future sales.
One way this is done, is by providing free value to people on your email list.
You can send your audience the top 10 ways to "fix it themselves". Sending one of these tips each week will keep you fresh on your audience's mind.
All of your emails should be focused on speaking to the deeply felt needs of your buyer persona you identified earlier in the article.
Strategy 8: Sales Process
Once contact information is submitted into your website by the viewer, your sales possess has begun.
An effective sales process typically looks like the following:
Call the Lead
Text the lead and let them know you called
Enter leads who have not responded onto an automated email drip campaign that includes a call to action on every email. The goal of these emails is to re-engage some of the leads with quality content.
Strategy 9: Social Media Marketing
Social Media is most effective when it is used to generate traffic and send it to your website. This means the most important aspect of your social media profiles are your calls to actions and links that entice people to click through and visit your website.
Keep branding and images similar across platforms
Avoid making requests on social media; only provide value to get your audience's attention.
Submit high quality blog posts to groups containing your target audience.
Use professionally taken photographs on image platforms like Instagram.
Post at least once a week to keep your content fresh and your users engaged.
Always remind your viewers of the free lead magnets offered on your website.
When you fully implement the strategies discussed in this article, you will find that your number of leads and sales generated through your website will increase.
Let us know in the comments which strategy you will implement first, social media or directories. 
Read more about marketing strategies for contractors down below:
12 Actionable SEO Tips For Contractors
The Ultimate Guide to Local SEO: 33 Tips and Strategies