Managing a senior living facility is a fulltime job. Every day there's a project to tackle. This shouldn't be too surprising – after all, this is what y'all signed up for – To focus your energy on creating a warm, welcoming environment for your residents.
And you're in need of marketing help! In the same way you've cultivated an environment, we've cultivated a list of the best and most efficient ways to improve your senior living marketing and add to your environment's occupancy.
Let's start with the basics.
1. Build an Aesthetic Website Focused on User Experience
First and foremost, the most powerful marketing tool is your website. By improving your website, you're sure to improve your marketing efforts.
I'm sure you already have a website – but is it working for you… or is it working against you?
By prioritizing aesthetics on the front end, and user experience on the backend, you'll start to see more successful efforts on all things digital marketing.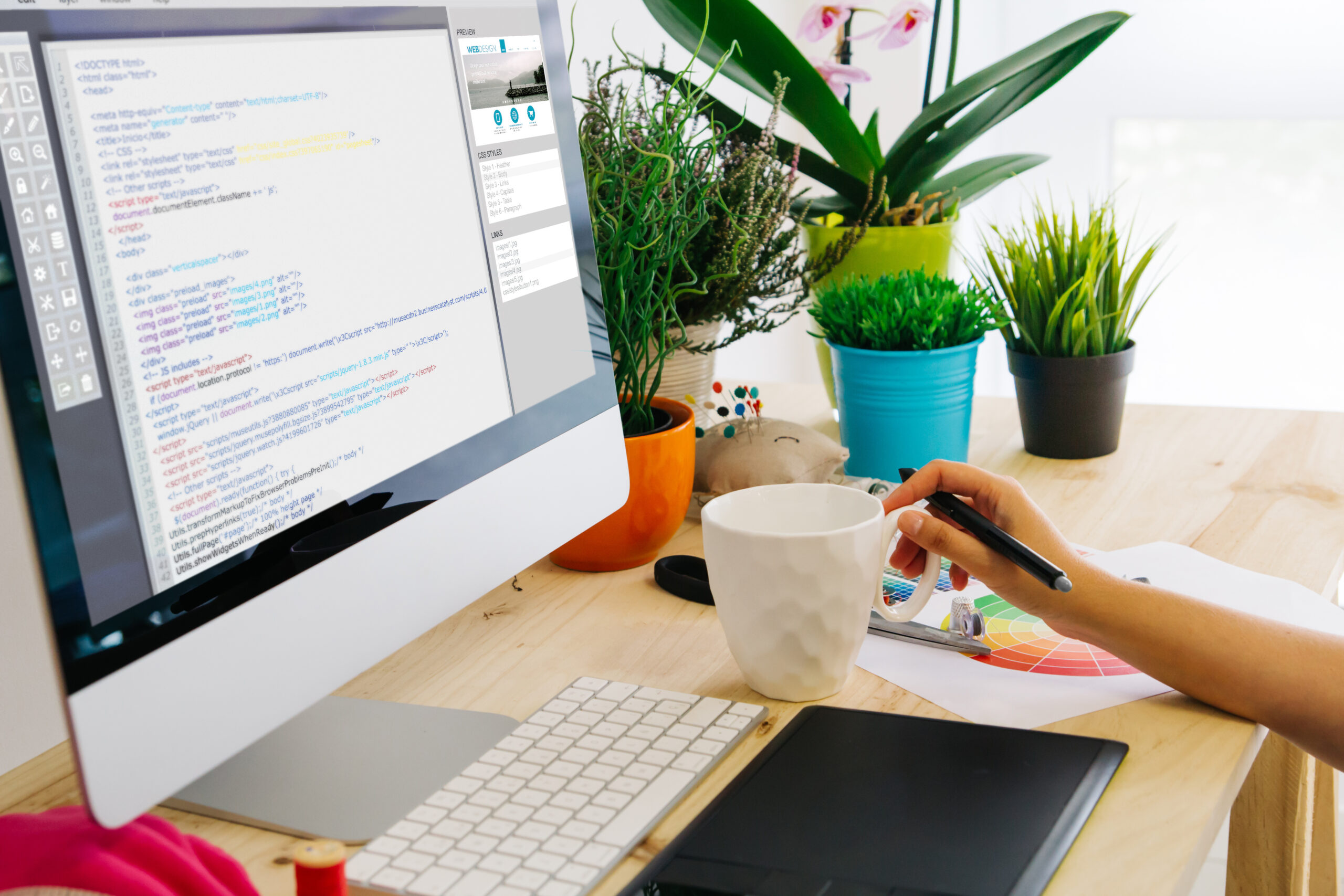 Focus on consistent branding, matching colors, compelling images, and modern fonts. For the backend – try to simplify everything from your contact forms, to your menu navigation. The easier it is to experience your website, the more successful it will be!
You can learn more about web development here!
2. Develop an SEO Strategy
SEO is a complicated subject. For senior living marketing, the simplest way to incorporate SEO is via on-page seo technical audits, and writing blogs.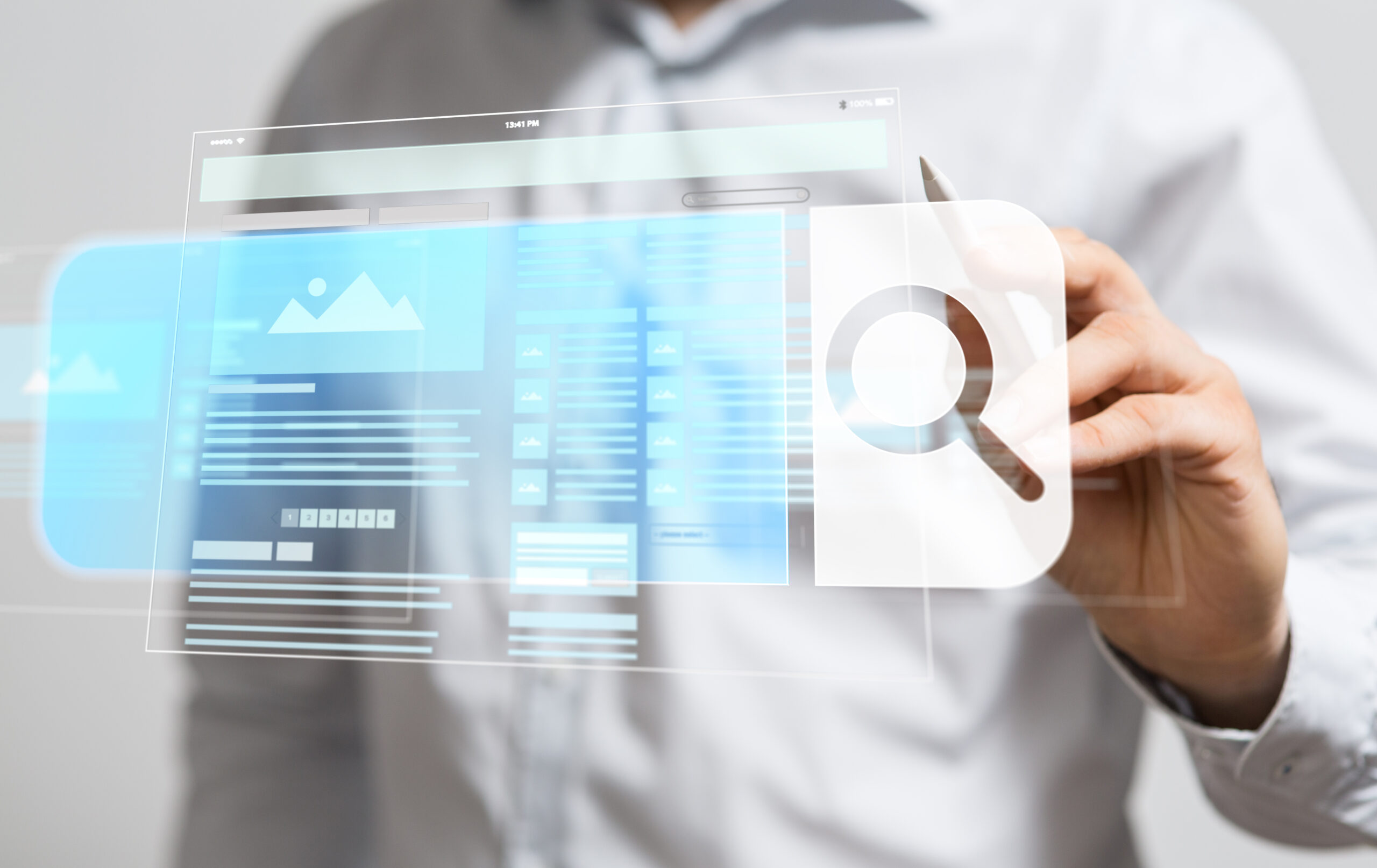 What is an on-page SEO audit?
Our rule for Johnson Jones Group SEO is: one page, one keyword. Each page should be optimized for a specific keyword related to your services. Here are a few sample keywords for senior living marketing:
Senior living homes
Senior living communities
Independent senior communities
Active senior living
Senior living homes in (*insert city/town*)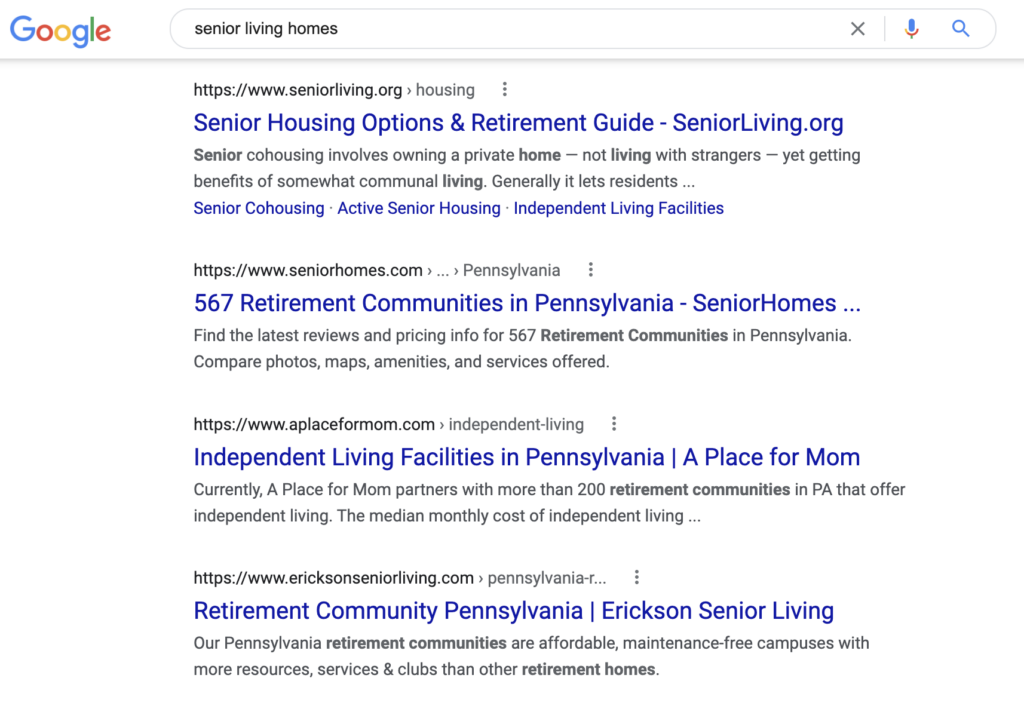 Let's use "senior living homes" as our example keyword. For a technical audit, we want to ensure the keyword appears in the first 100 words of your webpage, the title (H1) of your webpage, and lastly – the URL (see how we did that with "senior living marketing" above?)
3. Consistent Blog Output
The next part of SEO is focusing on blogs. As you understand more about keywords, you'll also begin to understand the value of consistent blog output for senior living marketing.
Your overall website score will improve every time you add a new page to it. What is the easiest page to add? A blog.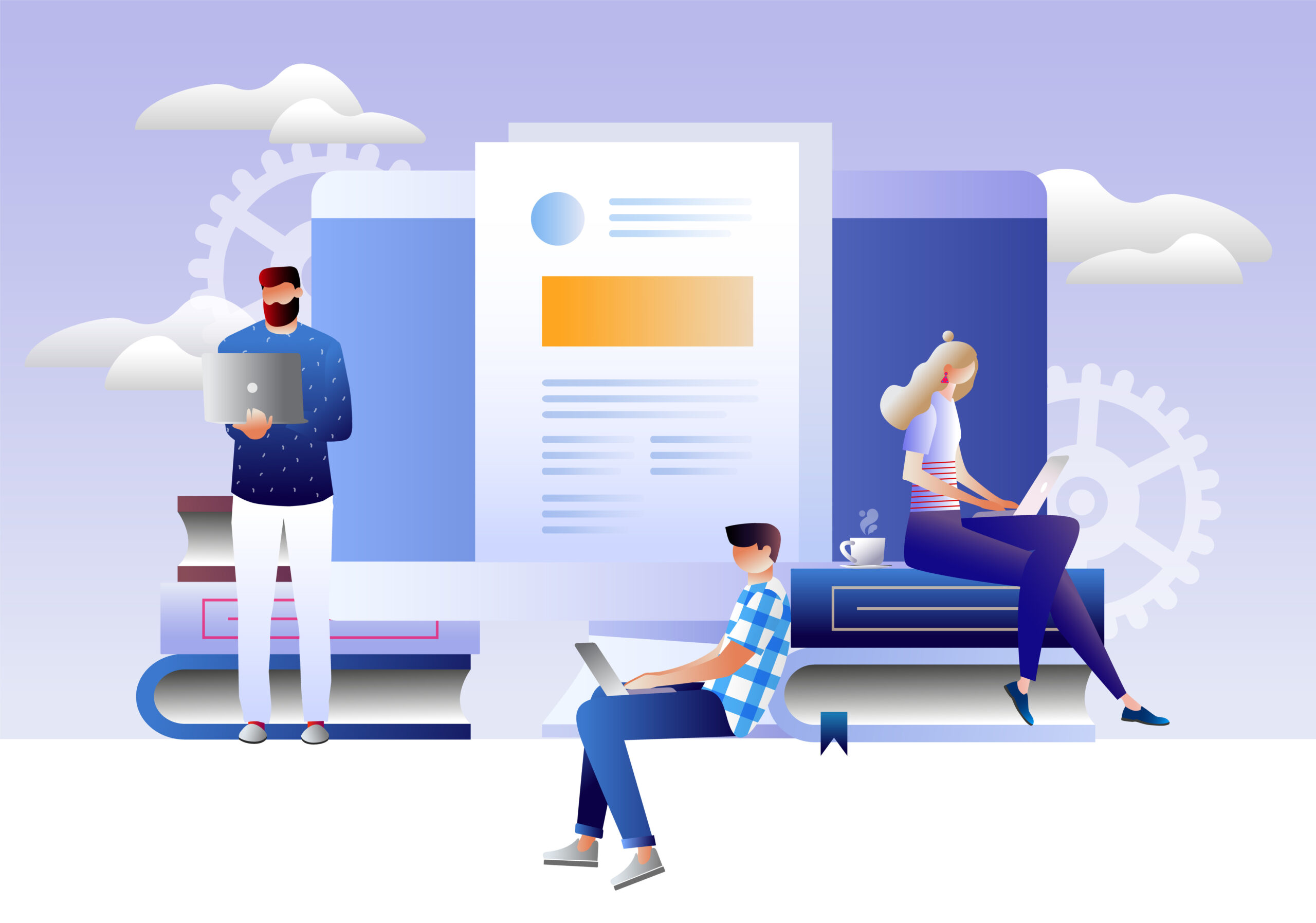 You should have 12 keywords per year you'd like to target (one per month). Identify one keyword you'd like to target, and write a blog about it! Let's use another example keyword: "active senior living"
An example title might look something like this, "17 Fun & Active Senior Living Activities" Here, you'll get people learning more about senior living, while continuing to expand your website.
The goal of this blog is not to create sales, but rather to get more engagement on your website – via improving traffic. The more traffic you get onto your website, the more keywords you'll start to rank for.
Consistency is key, we recommend adding one blog per month for at least 12 months – you'll start to see results about half way through – slow and steady wins the race!
Click here to learn more SEO tips!
Get Your

Free Marketing Guide​
Proven strategies to increase your leads in 2021
4. Use a CRM to Help Manage Customers & Leads
CRM stands for Customer Relationship Management. Making the most of a CRM can be the difference between success and failure in any business. For senior living marketing, using a CRM to maintain communication with your potential customers is key.
Here's a comprehensive list of CRM platforms you can use.
Not only will you keep customers more engaged, but you will also have the tools to better understand where your customers are in the sales process, and how you can most effectively communicate with them.
At Johnson Jones Group – we use ActiveCampaign – with ActiveCampaign, you can automate responses and most of the sales process. You'll never miss another email – and no customer wll ever slip through the cracks again!
Click here to learn more about CRMs & Automation
5. Create a Local Google Ads Campaign
Blogs and SEO are more of a long term strategy – these tools will help build traffic and increase site accessibility. However any solid senior living marketing plan has a short term solution to lead generation – that answer is pay-per-click (PPC).
Building a PPC campaign is a complicated process. There are a ton of steps, details, and specifics for getting the campaign fully optimized. To learn more about building your senior living marketing ppc campaigns, check out our blog here
Here are the most important takeaways from that blog:
One page – one CTA
Use localized keywords
Understand modifiers
Create functioning conversion tracking
Create single keyword ad groups (SKAGs)
You can do an even deeper drive on Google Ads here
6. Build a Compelling Landing Page
Let's first define what a landing page is. When you click on a Google Ad – you are redirected to a landing page. On this landing page, you should see images & text related to your senior living community.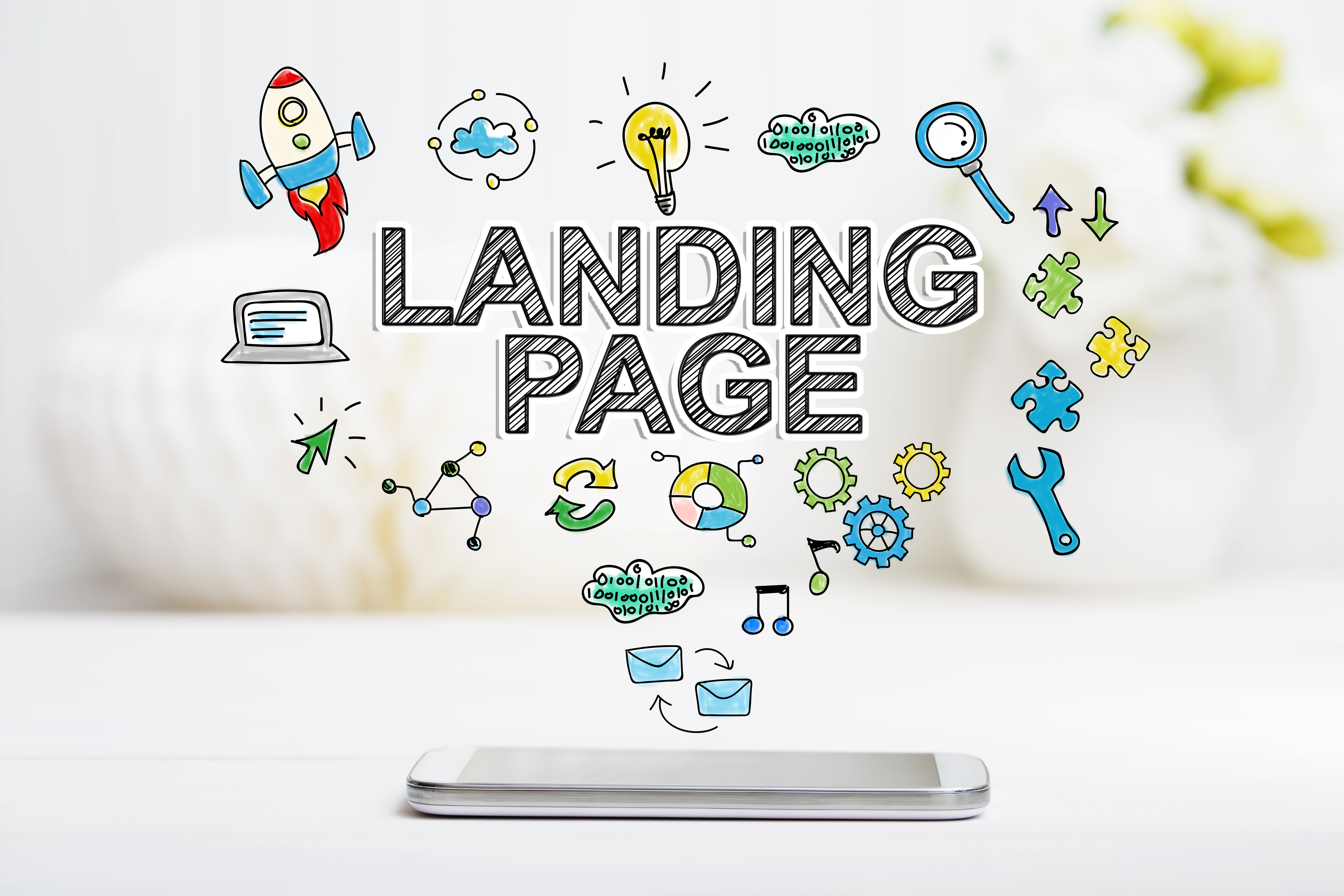 Rule #1 of Google Ads, do not send paid traffic to your home page. There should be no way to navigate to other pages from your landing page. The traffic being directed to this page should focus on sales alone.
Have a consolidated message on a landing page for one service. Whether this service is a subscription to your newsletter, a contact form for senior living info, or a tour scheduling tool, you'll be funneling traffic into one action item – the CTA
7. Focus on One Call to Action (CTA)
Finding the right CTA can be tricky, but once you do – your conversions will start to increase significantly. This is one of the most important tools for senior living marketing. Design an easy to understand CTA.
Use your competitions as a barometer. Find what CTA seems to work, and try it out! Using a different CTA on different landing pages is a great way to "A/B test" what's working and what isn't!
Here are some CTAs:
Download our brochure
Schedule a tour
Learn more
Contact us
Get a month free
See if one CTA gets you more leads than another – maximize your senior living occupancy by choosing the CTA that gets you the most interest in your community!
Once you find the right CTA – add it to your home page, and the rest of your site when relevant!
8. Cultivate Reviews & a Local Reputation
For senior living marketing, local reputation can make or break your community's success. Word of mouth is going to be a way that any local business generates interest – but it can just as easily turn against you with a bad reputation.
A way to help boost your reputation is by soliciting reviews from satisfied community members and families. Getting good reviews on Google and featuring these reviews on your website & landing pages is a great way to build credibility with your town & greater community.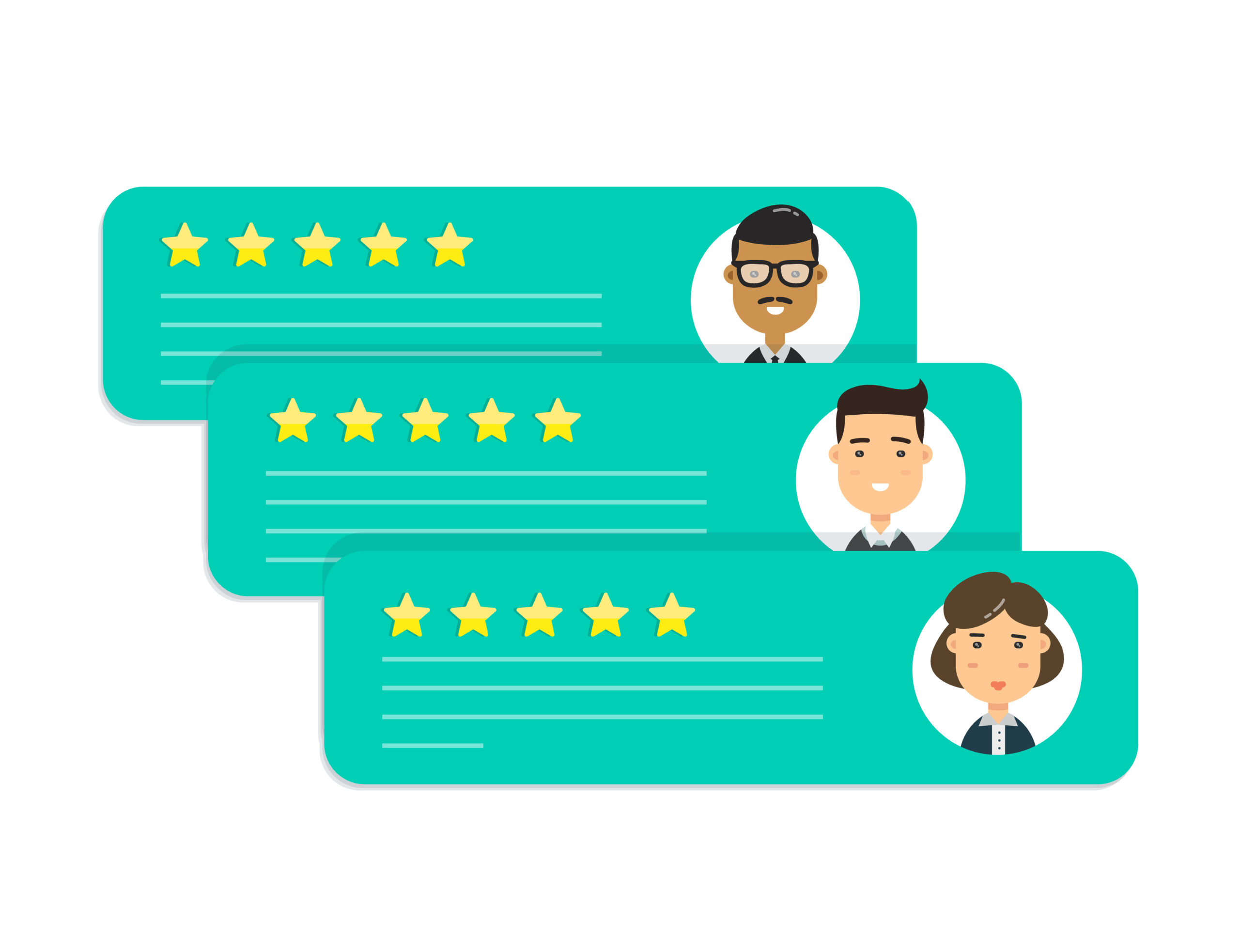 Helping families understand the success you've already had is key to successful senior living marketing. Without authoritative success stories, families are less likely to trust you with their time and dollars.
Try getting more reviews on Google My Business – this is a great tool used in the Google Map Pack. It's just another great directory to help you get organic leads and fill out your community!
Once you've started down the path of senior living marketing, you'll find there's a lot of concepts to understand, and even more to maximize efficiency. Like I said at the beginning, your strength is in your senior living community – not marketing, and that's ok!
This guide is just the beginning of your senior living marketing experience – if you want to learn more, you can download your comprehensive marketing guide here
Even with your guide's help, it can be difficult to fully master marketing. Luckily there are experts (like us) who are here to help you. You can schedule a free marketing assessment here to get started