In this article, we will analyze the top marketing automation agencies available for hire. 
Because each of these marketing automation agencies has a preferred automation platform…
We are going to segment this list based on the specific software each agency specializes in.
Let's dive in.
What Is Marketing Automation?
Marketing automation is a software (or stack of softwares) designed to automate certain tasks of a marketing campaign with the goal of saving time and increasing efficiency.
This allows for better management and scaling of marketing efforts across multiple channels.
When our agency is designing a marketing campaign for a client- we typically will start with the buyers journey.
We look at things like:
How is the customer finding the website?
What is the specific call-to-action for this website user?
When a user converts on the website, what is the next step?
What company employees need to be notified of this new lead/customer?
What are our strategic touchpoints to this user?
At what frequency are we communicating with this user?
Once we have a playbook for a specific campaign- we can then look to automation.
Marketing automation will take over certain tasks that could be very time consuming and automate them to allow for more time to simple review the results of a campaign and optimize for better results.
What Marketing Automation Platform Is Best For You?
If you are currently not using any marketing automation services- we can cover some of the more well known platforms.
They all vary in price and functionality- so I will give you my recommendation for the "short version" of this section.
Our agency uses ActiveCampaign simply because it has the most robust tools for small businesses at the lowest price (our average account is $70/month).
Because every business has different needs- let's cover our top 12 marketing automation softwares AND a preferred marketing agency for each platform.
Best Agency For Each Marketing Automation Platform
1. ActiveCampaign $49-149/mo Priced @ 2,000 contacts
ActiveCampaign is our favorite for small-to-medium sized businesses because it offers so much functionality at a relatively low cost compared to others.
The best part of ActiveCampaign is the "blank canvas" you get to build unique automations for your business.
Simply put- ActiveCampaign uses a "IF/THEN" rule system to essentially send each of your leads/customers/contacts through a unique user journey.
Ex.
IF user reads "email A"-THEN send email B 7 days later.
IF user does NOT read "email A" THEN send a text message and email C 1 day later.
ActiveCampaign also offers a built-in CRM that is drag-and-drop user friendly.
And finally, ActiveCampaign has a TON of integrations available so you can create your own marketing tech stack with a variety of software platforms you are already using such as:
Google Sheets
Calendly
Typeform
Stripe
Slack
Ok you caught me here…
I admit that this is a small case of shameless self promotion.
Johnson Jones Group was the first ever Active Campaign Certified Consultant in the state of MN (when ActiveCampaign was still a relatively small company). 
5 years later and 1000's of automations built- Our agency truly knows this platform backwards and forwards.
Not only that but our agency can incorporate your automations with ads, web design, and SEO.
So you're getting the leads that you want to nurture with marketing automation.
Now, getting off my soapbox…
There are a lot of great agencies on the ActiveCampaign Certified Consultants Network.
You can search through all of them here: https://www.activecampaign.com/consultants/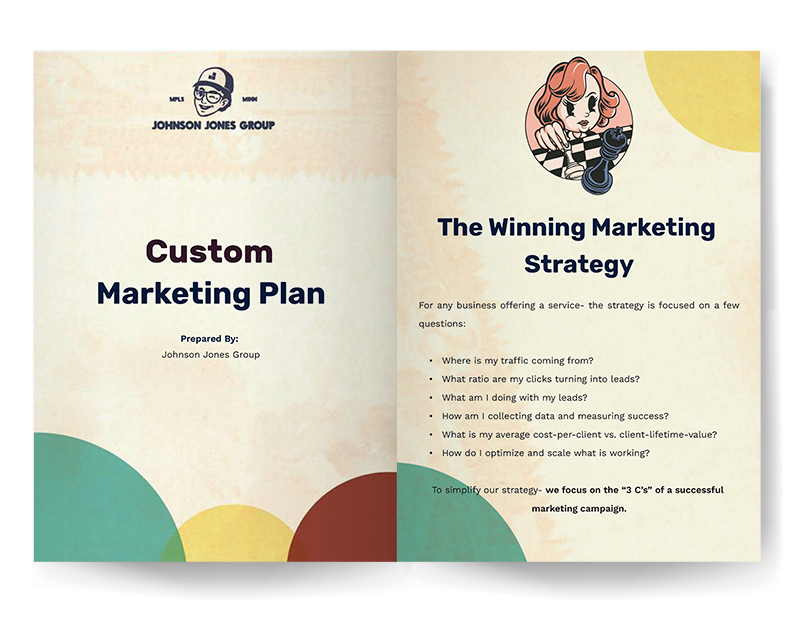 Find Out How We Can Help Grow Your Business
Let's discuss your marketing needs, and we'll help you put together a digital marketing strategy that will generate more leads and save you time.
Claim your marketing plan and get tips on how to boost your sales!
2. Hubspot $90-$3200/mo Priced @ 2,000 contacts
Hubspot is the giant in the marketing automation agencies game. 
Of this list they have the most users, and the most features including:
Email Marketing
Sales CRM
Customer Support
Most agencies will integrate softwares that does "one thing" well and Hubspot has attempted to package all of your marketing automation into one software.
My favorite part of Hubspot is their segmentation of the software into hubs that are designed for specific company departments.
They have a Marketing Hub, Sales Hub, and Customer Service Hub.
This makes Hubspot a better fit for larger companies.
There is a bit of a learning curve to master Hubspot but they have made it easier than most to learn.
Hubspot also has one of the largest networks of consultants for their platform.
You can fill out this form here to shop for a consultant: https://www.hubspot.com/services/professional/technical-consulting
Best Hubspot Agency- Six & Flow
Six & Flow is one of Hubspot's premier Elite Partners.
With offices in Europe and North America, they have a large team dedicated to marketing automation solutions.
They offer Strategy, Training, and/or Implementation services for Hubspot.
Boasting 274 individual Hubspot projects last year- they would be a great fit for getting the most out of your marketing automation agencies needs. 
3. Pardot $1,250-$15,000 Priced @ 10,000 contacts
Pardot is part of the industry giant Salesforce.
They serve the enterprise level business segment.
Pardot is a great option for large companies already using salesforce to stay in the same ecosystem.
Their specialty lies in the B2B marketing space so the functionality is geared towards Account Based Marketing efforts.
The system allows for automating communication with existing customers, lead scoring, website interaction scoring, and CRM automation.
Pardot offers a consultant exam so if you are looking for marketing automation agencies- it would be wise to make sure that they have passed this exam. 
Iron Paper is a New York City based agency specializing in B2B marketing.
Iron Paper specializes in different types of Pardot services including:
Pardot for Marketing ROI
Pardot for Measuring Engagement
Pardot for ABM
Pardot for Lead Management
SAlesforce Integration
Iron Paper is a great agency to use with Pardot because of the understanding that B2B customers have a much longer sales cycle.
4. Keap $199-249 Priced @ 2000 Contacts
Keap is the "Automation Formerly Known As Infusionsoft."
Much like ActiveCampaign- Keap is focused on the small business and solopreneur market.
This is reflected accordingly by their relatively low pricing.
Keap (Infusionsoft) has been around for a LONG time and has done a great job of helping businesses build robust marketing funnels.
Like many marketing automation softwares- Keap offers a marketplace to get connected with consultants that offer automation services on the platform.
You can find a Keap certified partner here: https://marketplace.keap.com/
GetuWired is a Dahlonega, Georgia based agency that has been around longer than Infusionsoft.
Founded in 2003, GetuWired has a 40 member staff and are self proclaimed "partner professionals"
Assuming to mean certified partners on multiple marketing automation platforms. They are one of the best marketing automation agencies in the industry.
They offer full services for Keap including:
Account Creation
API Integration
On-Going support
5. Marketo $895-$3,175 Unknown Contacts
Marketo was an independent marketing automation platform that was acquired by Adobe to incorporate into their enterprise level marketing suite.
For businesses already using adobe products for marketing, this is a great option to incorporate your existing products into the platform.
Much like the Saleforce/Pardot model- Marketo is geared towards the enterprise level client.
However, it would be a great tool to compliment Adobe Target to perform more experimentation and personalization on your website.
Marketo has an internal consulting team to help with DIY work and you can find specific services here: https://www.marketo.com/why-marketo/services-and-support/services/
Hileman Group is one of the best marketing automation agencies based in Cleveland, Ohio. 
They boast a staff of a team of Marketo Experts, 2 Marketo Certified Solutions Architects, 2 Marketing Nation Summit speakers, and 1 Marketo Champion.
They are also a certified LaunchPoint Gold Partner with Marketo.
Their focus is primarily on:
Demand Generation
Advanced Reporting
Sales & Marketing Strategy
Marketo Training
6. Ortto $29-$299/mo Priced @ 2,000-20,000 Contacts
Ortto is a marketing automation platform that used to be called AutoPilot and rebranded in 2022.
The focus for Ortto is the solopreneur or start-up business looking for a budget option.
Just by looking at their website you can see the amount of work put into their user interface and aesthetics.
They offer features like:
Customer Data Platform
Customer Journey Marketing
Customer Journey Analytics
While Ortto is nowhere near as robust as your enterprise automation platforms-
It offers a great option to the DIY-ers or businesses that don't need all of the features and functionality as a Hubspot.
Best Ortto Agency: DIY
This may be a little unorthodox but this article is meant to educate anyone no matter the size of your business.
With Ortto being the easiest and cheapest option on this list-
I would not recommend using any marketing automation agencies to assist you with Ortto. 
I believe the platform is simple enough for the greenest of business owners to take a shot at DIY.
7. Ontraport $79-$497 Priced @ 1,000-20,000 Contacts
Ontraport is a platform I would recommend to the small business owner or employee who have not yet grown enough to have a marketing AND sales department.
If you have one person wearing both hats- Ontraport is a great option.
Ontraport touts itself as a CRM first but has more features at a lesser capacity including:
Smart Pipelines
Drag and Drop Web Page & Form Builder
Payments Platform
Email & SMS Messaging
Ontraport is a great option for businesses with 3 or less employees or the "ontrapreneur" starting out (see what I did there)
While Ontraport does not have a marketplace to connect users with consultants- they do offer a robust educational platform for their software called University.
This will help educate you on Ontraport's features.
Automation Agency is an Australian based marketing agency that has a focus on integrating Ontraport into your full tech stack.
They boast the ability to integrate your Ontraport account with platforms like:
ClickFunnels
Thrivecart
Stripe
WordPress
Zoom
They also have the certified Ontraport expert badge and offer a 30-day money back guarantee on all of their work.
8. MailChimp $59-$299 Priced @ 2,000 Contacts
If you're reading this article, chances are you've heard of MailChimp.
They are the oldest company and probably most well known brand on this list.
Bursting on the scene all the way back in 2001- MailChimp has done an excellent job of staying relevant through re-brands and adding new products/services to their offering.
Did you know that MailChimp has introduced marketing automation to that offering?
Their software functions similarly to ActiveCampaigns If/Then behavior flows and allows you to create customer journey maps from scratch.
MailChimps main features are:
Customer Journeys
Email Send Time Optimization
Transactional Emails
Custom Triggers
Scheduling Tools
While they are not the most robust in automation- this segment of their product line is one small part of their platform which also includes audience management, creative tools, and insights and analytics.
MailChimp is included on this list because I would recommend the platform for the ecommerce industry.
MailChimp offers an "Experts Directory" to allow you to find a potential agency to work with. You can search for partners here: https://mailchimp.com/experts/
Duck Duck Chimp has been a certified MailChimp agency since 2006.
Based in Madrid, Spain Duck Duck Chimp boasts 500+ customers from all over the world (18 different time zones to be exact).
They specialize in Audience, Email, Web, and Marketing.
While this range goes beyond automation, they are included on this list because they operate almost exclusively in the MailChimp ecosystem. If your looking to use MailChimp, we recommend this as one of the best marketing automation agencies.
Conclusion
I have had the pleasure of operating in almost every one of these automation platforms (albeit in a different capacity).
In my experience (and not to beat a dead horse) Active Campaign has been the best solution for the Small-Mid sized business wanting to incorporate automation without breaking the bank.
While all fill a niche market, it is worth taking advantage of free trials to see which of these work best for your business.
If you are unsure or looking for a marketing automation agencies to help with your automation, I would suggest setting up a free meeting with me here:
Otherwise, best of luck on your marketing automation agencies search.
And happy automating.